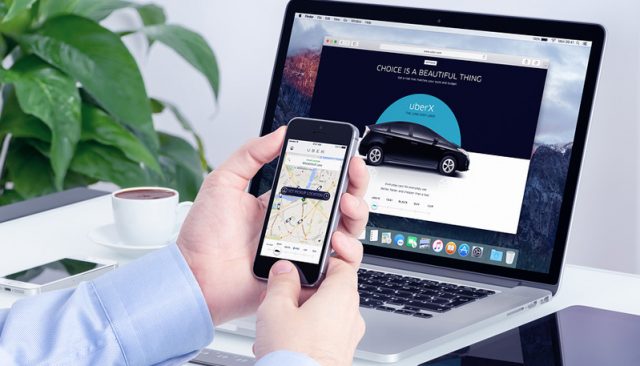 While there are many reasons why demand of Lyft and Uber clone scripts keeps going up, let's just point out two of them. In 2017, Lyft gave 375.5 million rides and increased its passenger count by 92%, outpacing Uber in growth by a big margin. Uber and Didi collectively are valued at $104 billion, with the latter being valued higher.
With traditional cab service providers shifting to technology for staying in business, the demand for Uber clone script is going to rise further. And developers building powerful Uber clone apps are having a time of their life.
Since there are so many ready-made Uber clone apps available in the market, our team of analysts undertook extensive research to find the best ones. Here are the top Uber clone scripts and taxi booking softwares in the market:
(

Special Deal: Get up to 20% off when purchasing any of the following Uber clone scripts! Request a discount code by contacting us.)
EQ Taxi Solutions [sponsored]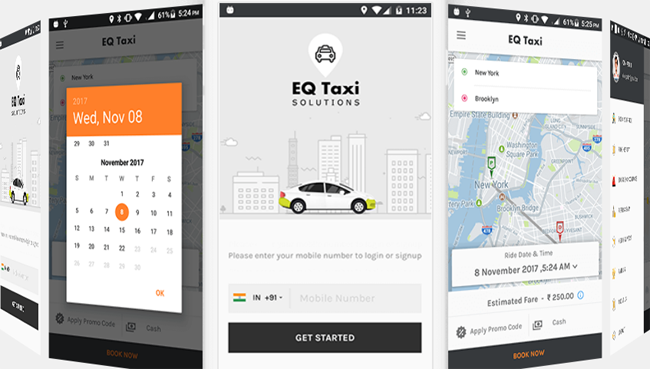 The Uber clone script from EQ Taxi Solutions claims to be highly efficient taxi management software that brings almost all the impressive features promised by top cab booking service providers like Uber and Lyft. EQ Taxi is a customizable solution built for iOS, Android, and web that is also perfect to cater businesses that deal with food delivery, commercial delivery, laundry, and much more.
This taxi booking software maker however choose not to disclose the pricing beforehand. Feel free to contact them to request demo and pricing information.
Learn more: https://www.eqtaxisolutions.com/
Request Discount Code
Arigya's Taxi Pickr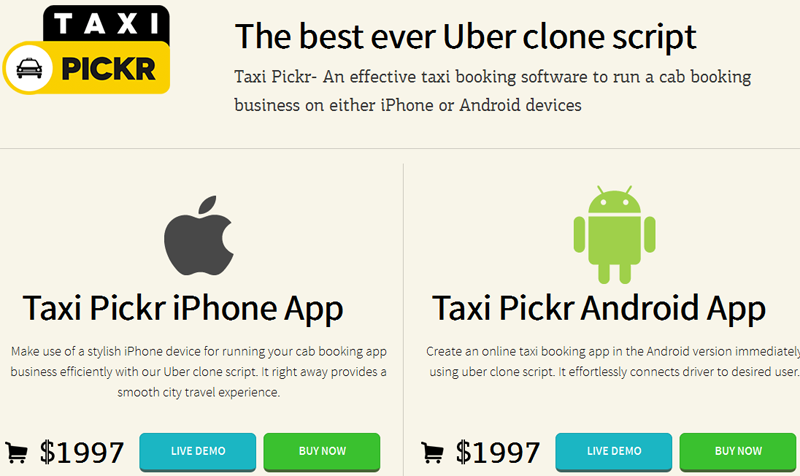 The leading clone maker from India calls it "the best ever Uber clone script". Available for both iOS and Android, the big app development firm has integrated powerful features related to car search, wallet, tracking, payments, fare estimation and security. Taxi Pickr has also been optimized from search engine point of view, which certainly is an added advantage.
In addition to the uber clone script, the company is also offering:
Free updates for 12 months
Best support for 3 months (free)
Free installation
Access to source code
Learn more: https://www.agriya.com/products/uber-clone
Request Discount Code
Taxi Hawk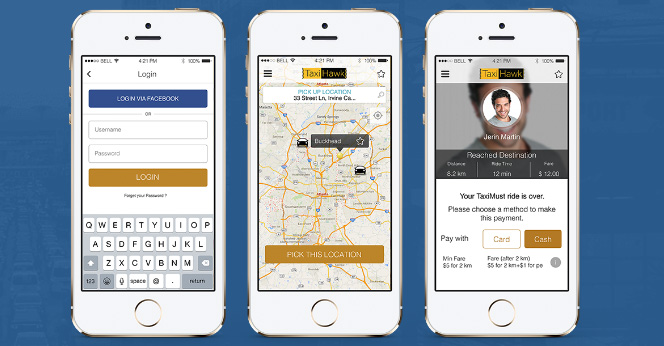 Taxi Hawk is an Uber clone app from the top mobile app development firm, Click Labs. The company is behind the app technology used by Jugnoo, an auto booking and sharing startup in India. Since it is a development firm, it left no stone unturned to make an impression with its website and succinctly introduces visitors to different app functionalities.
The leading software development firm however didn't show off demos and instead asks visitors to request it by contacting them. Neither did they shed any light on the pricing of Lyft clone script.
Learn more: http://taxi-hawk.com/
Request Discount Code
UberAppClone.com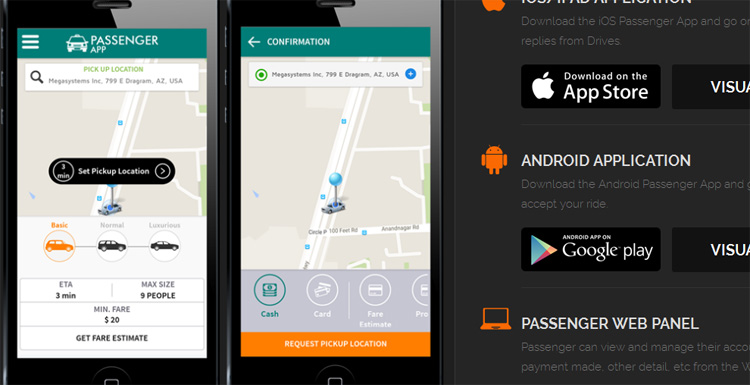 This Uber clone app takes the cake from design and UX point of view. It has very neatly described how passenger, driver, and admin will experience the application by offering best visuals as well as live demo options. In addition to that, it also provides detailed app and web manuals to simplify the deployment of the Uber clone builder.
While frontend and admin panel works perfectly, the company for some reason opted to go for pricing-on-request. So, you have to get in touch with this Uber clone script maker to learn how much it will cost you.
Learn more: http://www.uberappclone.com/uber-apps-clone-demo/
Request Discount Code
Zoplay's Uber for X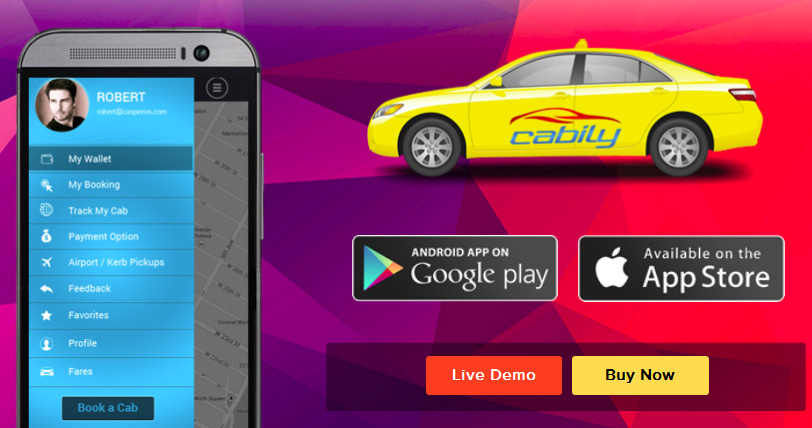 Zoplay makes a very strong impression with top features like credit card payments, multi-location access, integrated analytics, and customer loyalty programs. It looks like one of the most feature-rich Uber clone apps out there.
Zoplay is offering its taxi booking app, Cabily under 3 packages.  You can get both Android and iOS apps for $3799 USD. Platform owner can control everything from the feature-rich admin section which gives you interesting insights and data for decision making. Admin and website demos are there to get complete idea of design and functionality.
Learn more: https://www.zoplay.com/web/uber-clone/
Request Discount Code
App Jasmine's Uber for Taxi

The company positions itself as Uber for X solutions. It has Uber for taxi, food delivery, laundry, and whatnot. However, we will only talk about its taxi booking app. And guess what? It's free!
Of course there is a catch. The company is giving away only the web script of its taxi booking platform for free, and is charging separately for apps and add-ons. We checked a couple of them. None costs less than $1000. The company is also offering another package in which it is giving away an impressive bundle at $1499. Have a look on your own and judge by yourself.
Learn more: http://appjasmine.com/taxi-script.php
Request Discount Code
Taxi Anytime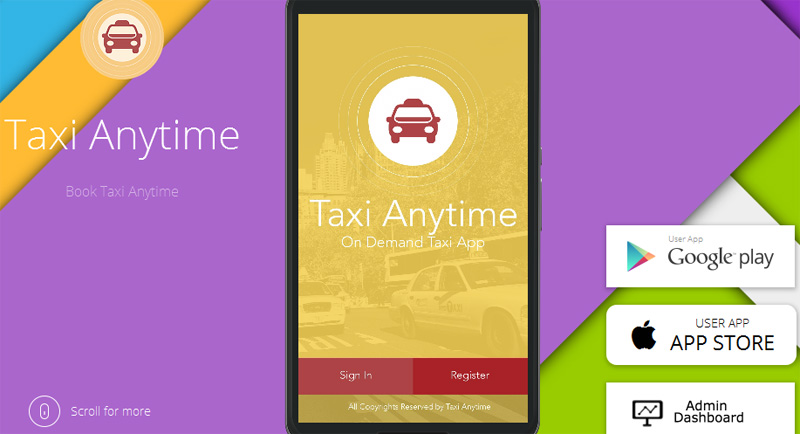 One of the many products of Elluminati, this Uber clone script brings all the critical features and integrates them in an intuitive way. The admin dashboard is neat and planned with UX in mind. While the apps and features leave the visitor impressed, pricing makes them think twice.
Taxi Anytime charges separately for:
Installation ($199)
Custom payment gateway ($999)
App redesign ($1999)
Language change ($499)
If you can manage the product with source and installation document, then, Taxi Anytime is not a bad deal for building an app like uber .
Learn more: http://mobile.elluminatiinc.com/taxibookingscript/
Request Discount Code
Cogzidel's Uber for X Solutions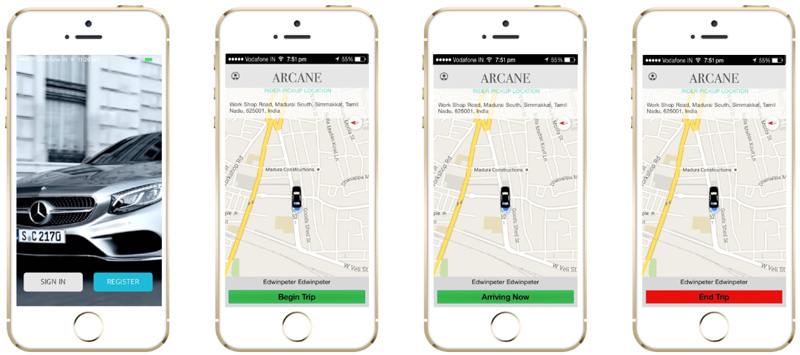 It seems like India is the hub of clone script development. Cogzidel Technologies is another Indian company catering to young entrepreneurs interested in rewriting the success stories of Uber, MyTaxi, Lyft, Ola, or Didi. It has created Arcane, a product they call 'Uber for on-demand services'.
We spent a few minutes in the dashboard area, and found Reviews, Member Management, and Category Management hard to grasp. Getting out of the dashboard was problematic as well. As for pricing, Arcane will cost you $1998 USD for both iOS and Android apps.
Learn more: http://www.cogzidel.com/uber-clone/
Request Discount Code
App Scrip's Roadyo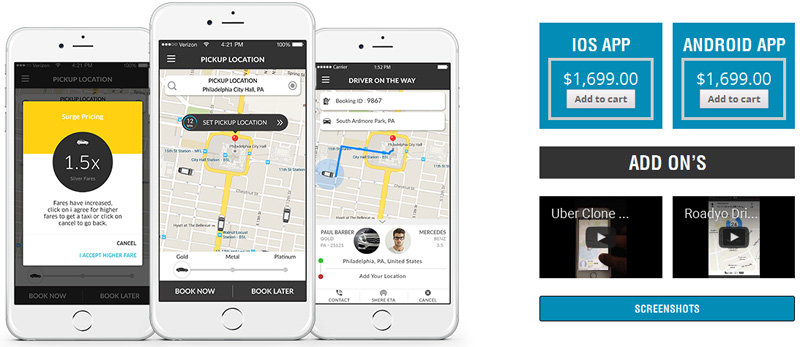 Roadyo from AppScrip, is the Uber clone script for real time on-demand services (or we should say Uber for X). Like most taxi booking scripts out there, it brings all the fundamental features required to book and track cab rides.
Roadyo however charges extra for surge pricing, in-app navigation, wallet, campaign management, and language upgrades. It also charges separately for iOS and Android app.
Learn more: http://www.appscrip.com/uber-clone-mytaxi-clone-lyft-clone-taxi-booking-software/
Request Discount Code
Appypie' Taxi Booking App Builder

This Indian mobile development company didn't build the best Uber clone script. It created an app builder using which you can create vast range of apps. They have targeted Uber app development because that's what people are looking for.
We also gave a shot to the app builder software. To put it in few words, it is not the simplest of things in the world. Of course you can hire the Appypie team to build your Didi or Lyft clone app as well. What interested us more is the pricing. Appypie offers monthly, yearly and lifetime plans, and there is a free version as well. In short, something worth checking out.
Learn more: http://www.appypie.com/taxi-booking-app-builder
Request Discount Code
We are done! Above are the top ready made Uber clone scripts available for you to choose for your startup venture.
Final Words
Yes, you can quickly launch a ride-hailing business with one of these Uber clone solutions at a more affordable cost, comparing to develop from scratch. Now the question is, "Would your venture get the valuation of Didi(around $56 billion)?"
The answer is NO. Well, at least not just by buying a top-class Uber clone script.
Here's the reason
Didi, Uber and other ride-hailing platforms went beyond technology to become billion dollar brands. They didn't just think in terms of app features. The established ride-hailing brands grew because they:
Entered the market early and grew quickly.
Understood target audience and market dynamics.
Differentiated by providing unique value.
Delivered excellent service and delighted customers.
While competing with the likes of Uber and Didi is tough, followers are making their share of profits by:
Focusing on untapped and smaller markets
Positioning their brand differently. For instance, rides for women.
Giving better rewards and perks to drivers.
What we mean to say is that in order to make your taxi booking venture profitable, there is much more required.  Having a nice app and idea is just a start, you need to execute properly and deliver a brilliant service. Then, maybe you can raise a VC funding as well someday.
Now to get started, carefully study the above-listed Uber clone apps and pick the one that best serves your business goals and budget. And don't forget to read our amazing post about choosing between readymade clone script and custom development!
Do you think there's another Uber clone script out there that needs to be in this super list? Mention the name in the comments section and we will consider it for inclusion.