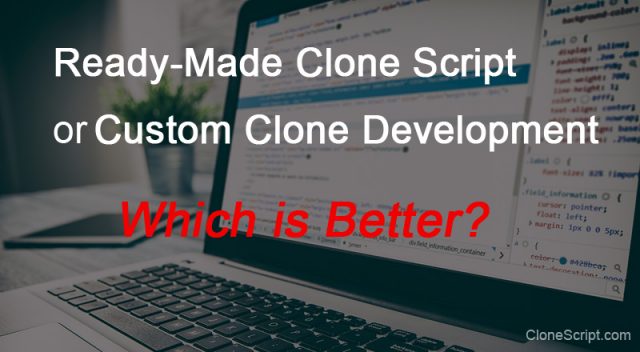 In good old days, it took decades to grow a business and made it worth millions. With internet, you can do the same in a couple of years. A lot of aspiring entrepreneurs have taken fancy of the internet and are trying to launch online businesses based on proven ideas and models. Many have successfully mimicked the success of the internet giants like Tinder, Amazon, Airbnb and Uber. However, starting an online clone business has its share of challenges.
One of the biggest ones is to decide how development (creating the website or app) will be handled. While custom clone development is hailed by seasoned entrepreneurs, the emergence of powerful ready-made clone scripts has made startup enthusiasts wonder if it is wise to invest tens of thousands in development. Obviously, this is not the only angle. There are many.
We are here today to help you analyze all the angles so that you can decide which is better for you: ready-made clone script or custom clone development. Before kicking off the debate, let's quickly underline what clone script and custom clone development is all about.
Clone script based development – In general, clone script refers to ready-to-launch solution. Launching an online business on a clone script means using a ready code, software or site builder to handle the core functionality(with or without customization). Clone scripts are developed by companies and freelancers after noticing the growth potential of a particular digital venture.
Custom clone development – Launching a clone business with custom development means investing in a team of designers and developers to build the user interface and core functionality from scratch as per your needs. Custom clone development is provided by web and mobile development companies as well as freelancers.
Now that we are through with the definitions, let's compare clone script and custom clone development on the basis of most critical parameters:
Cost
This is the biggest advantage that comes with clone script based development. It is also the reason why the demand of clone scripts has broken all records in the last couple of years. Entrepreneurs just starting their journey are usually on a shoestring budget, and want to get started at the lowest possible cost. This makes turnkey solutions very luring to them. The cost of launching a business based on a ready-made clone script is usually less than 20% of the cost that comes along with custom development.
So, the biggest benefit of using clone scripts is rock-bottom development cost. Web services industry has also become highly competitive in the last decade but pricing is still a pain point for people with small budgets.
So, when it comes to cost, clone script trumps custom clone development.
Flexibility and uniqueness
Digital business ideas take birth in entrepreneurial minds. As the time passes, rough details about brand identity and features also emerge. Custom clone development gives the flexibility of accommodating these ideas because the product will be built from scratch. Ideas can be shared with design and development team to get exactly what you want. So, the platform is tailor-made to unique client requirements.  This doesn't happen with clone scripts.
Ready-made clone scripts already have predefined design templates/interface and site/app features. This means you have to accept what's in the package. However, top clone scripts offer scope of customization to help entrepreneurs customize their venture as per target audience. That fact is that no one would want their website to look very similar to others using the same clone script. That said, customization offered by script sellers is usually costly, and uniqueness delivered is not at par with building from scratch.
So, when it comes to flexibility and uniqueness, custom clone development is better than clone scripts.
Turnaround time
Digital business aspirants want their ideas to take material form ASAP. They hate waiting months (which can stretch to a year or more for complex projects) to get started. For such restless souls, turnkey solutions are the best. Quality clone scripts can get your website or app up and going within a couple of days. Quick turnaround however is a problem with custom development.
Developing something from scratch is obviously time-consuming. If you have hired a top design and development firm, its development process will include research, planning, design, development, mockups, approvals and whatnot.
By choosing ready-made clone script, you save around 80% of the development time. In short, clone script beats custom clone development if you are in a hurry.
Robustness and scalability
Web driven businesses that depend heavily on online transactions (shopping driven portals like Wanelo and Fancy) require sturdy development base to secure critical user data. The best way to ensure this is to choose the core technology carefully and add additional layers to ascertain robustness. This is possible only when you opt for custom clone development.
Modern clone scripts are built on tough development structures and bring amazing capabilities for entrepreneurs but they still have to match the efficiency of development from scratch. The advantage to build with the technology of your choice and according to your vision helps you plan before hand for scalability.
When you are building from ground up, development team can be notified how the website/app will shape up over time. This gives them the knowhow deploy resources effectively. Top clone scripts are also built with scalability in mind but they can be stretched only to an extent.
Transparency
For digital business aspirants who know little about programming, it is not possible to look into the code quality of the clone script. You have to believe what's promised by the script seller on the website. This may expose buyers to shady scripts that are buggy, lack in security, and carry weak overall structure.
There is relatively more transparency while opting for custom development, especially with reputed web development companies.  There is a team ready to answer all your questions and explain everything in detail.
Whichever you choose, we suggest you to do your own research and only work with the top web and mobile development companies.
Consultation value
We are probably repeating things but this is something that deserves all the emphasis. Going with custom clone development introduces you to industry experts that can also guide you about added features, marketing, and future growth. Very few ready-made clone script developers offer this kind of additional support and value.
Last couple of points gives a tactical advantage to custom clone design & development but let's not forget that opting for a clone script has 2 biggest difference makers namely:
Cost advantage – You save tons of money from development.
Quick turnaround – Your website/app is ready at record time.
Above two matter a lot to entrepreneurs who couldn't wait to jump into the online business bandwagon and have limited resources in hand. Also, launching with clone script could be a good strategy to validate your idea at low cost and build MVP/prototype quickly. Once the potential is proven, you can go ahead with custom development.  So, these two are not always conflicting.
Whichever you choose, you also have to get the ideal domain name and choose a top hosting service provider on your own. So, make sure you get both right!