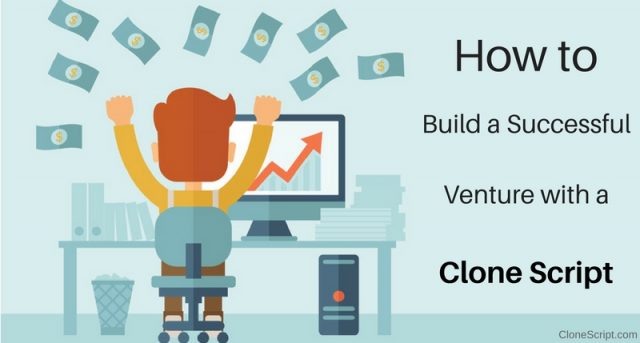 Most people think that launching an online venture with clone script is easy as pie. It was a couple of years ago but the whole process has become more complex and demanding over time. To put it in few words, just launching a clone website or app is not enough in 2016.
Modern clones need more than just basic features to attract attention of target audience and potential buyers. Today, we will talk about how to succeed while building your venture on a clone script.
To amplify your chances of earning big profits from your clone script, you need to pay attention to following points:
Ace business idea
Clone script is just something that handles the technical aspect of starting a web driven business and saves you from hiring dedicated programmers. A powerful script can do nothing if you decided to step into a highly competitive or saturated market.
Your first task is to choose a business idea that has proven its profitability. Start in an industry that you are familiar with on professional or personal level. There should also be clear indicators of potential market growth before you start building your online business.
In short, stop thinking about the script and focus on finding an industry that presents a big problem that few (but not too many) startups are already solving.
Powerful clone script
Now that you have decided which industry makes the most sense, it's time to look at clone scripts available in the market to launch something similar. You will come across free scripts as well as highly priced ones. Not all of them will be the epitome of perfection. It is your job to make sure that you get the best deal.
Here are some points to help you make the right clone script buying decision:
Script feature checkup
Demo testing of different user areas
Script price research
Reputation check of the script provider
Script installation requirements
Choosing the right script is critical because it will make the core of your website. If your chosen script doesn't have the flexibility and scalability to add more features and handle high traffic, it cannot support your future growth and expansion plans. That's why you have to pick a clone script that brings customization benefits.
Product differentiation
We know Rocket Internet rips off everything (except the logo) from every website it clones but the Germans get away with it because they have millions of dollars to pump in marketing to speed up growth. Most don't have the millions, and that makes differentiation the big game changer.
Differentiation means making your online venture unique from others in the market. Clone entrepreneurs are doing this by:
Focusing on niche
Targeting an untapped market
Adding path breaking features
Differentiation becomes almost obligatory when there are established players in the market. So, don't forget to spare some time for figuring out how to make your clone website stand apart from others.
Branding focus
There is no way we can overemphasize the importance of branding. It is crucial to make a strong first-impression on potential customers even if you are just launching a clone website/app based on an already successful idea. Branding will give you an edge and lend authority to your online business.
Tips to get branding right:
Make improvements from design point of view.
Think about your audience and plan pitch accordingly.
Keep communication consistent on all marketing channels.
Undertake research to find branding loopholes in active companies
Suggestion – Don't try to pull off something fancy by experimenting a lot. A simple design based on user experience and engagement can work wonders for any website.
Marketing and optimization
Bought a powerful script and built the business website/app with branding in mind? The next logical step is to connect with your target audience by investing in marketing. Clone entrepreneurs are usually on a small budget and that's fine since there are ample marketing options out there that consume zero to small amount of money.
Here are some ways to market your new clone online business on small budget:
Blogging
Social media marketing
Affiliate marketing
Community interactions
Before kicking off marketing for your online venture, make sure that you have optimized the website for relevant keywords. Also optimize social media profiles, posts, and other interactions with tags and mentions.
Innovation and improvements
You will not be the only one to notice the potential of launching a clone. More people will smell the opportunity and start building their own spin offs. To stay ahead of competition, you need to keep innovating and locate area of improvements. By this, we mean:
Adding new features
Finding more revenue channels
Taking your product to new audience
Investing in industry research
To achieve monetary success, you need to think about improving your product or service every day. Only then, your venture will survive in the long run and keep making money.
End note
Building online business on a clone script is no less a challenge than working on something brand-new. Entrepreneurs that are not really passionate about their clone startup and make half-hearted efforts have small chance of success.
Want to learn about top clone script developers that can deliver powerful scripts? Check out this post and pick the one that best serve your needs.
In case you are trying to find the most clone-worthy online businesses, then, go through our exclusive list of 2016.
Need help with anything else? Post your questions in the comments section and we will answer them!