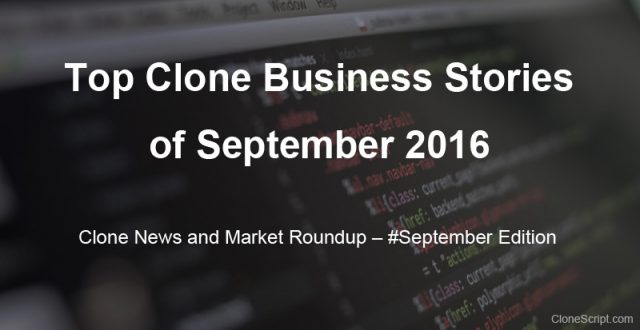 Every month brings new digital stories, opportunities and lessons for online business enthusiasts. September brought its share too for aspiring clone entrepreneurs. The new tabloids buzzed with reports of emerging clones, their growth plans, and even funding announcements.
To keep you updated with the What's Hot, we are once again here with our monthly clone news roundup. Here are the top clone centric news stories that dominated the minds of readers across the world in the month of September!
Now, Facebook copies Snapchat
In our last month's clone news roundup, CloneScript.com reported that Apple was planning to get 'inspired' from Snapchat Stories (like Instagram). This month, the news is coming that Facebook is also adding Snapchat Stories like feature into its Messenger to make it more appealing to its audience.
Named as Messenger Day, the feature will help people to share special moments by enhancing them with text and graphics. The iconic filters of Snapchat will be missing for the time being though.
Read the complete story here to learn more details about Facebook's attempt to integrate Snapchat like features into its giant messaging application.
Airbnbvs China's Airbnb clone
Airbnb is the behemoth of travel accommodation but this is not stopping China's Tujia from trying to grab local travelers headed offshore during the Golden Week. The travel accommodation company which takes inspiration from Airbnb was launched back in 2011 and its worth is over 1 billion.
From deep discounts to aggressive marketing, Tujia is using every trick in the book to grab its share of customers. But the company doesn't have any plans to challenge the temporary accommodation marketplace directly.
Read the complete post to understand what Airbnb's Chinese counterpart is up to.
Snapchat clone bags $45M
The news of clones raising money from VCs is rare but Snow, a Snapchat clone focusing on Asian market, has managed to do the same. The company has got the monetary push from Line, the popular messaging company from Japan. If you could recall, Line raised over 1.1 billion a couple of months ago after debuting on Tokyo Stock Exchange.
While the times are good for Snow, Line has been struggling with growth recently. This is the real reason behind the acquisition.
Check out the news story published on Techcrunch to learn more details about the funding.
There has been a lot of activity in gaming industry too related to cloning. For instance, big game studios have been trying to trump Pokemon Go by launching something similar but technical challenges are simply too big to conquer.
So, what are the top lessons from above news?
Targeting unique location can be a game changer. Facebook is testing Messenger Day in Poland since Snapchat isn't big there.
Evolving something unique in terms of features can greatly help.
If your favorite clone news of September didn't make out list, then, share it in the comments section!
Just reading about clone industry to start your venture some day? Check out our last post for pro tips and ideas!