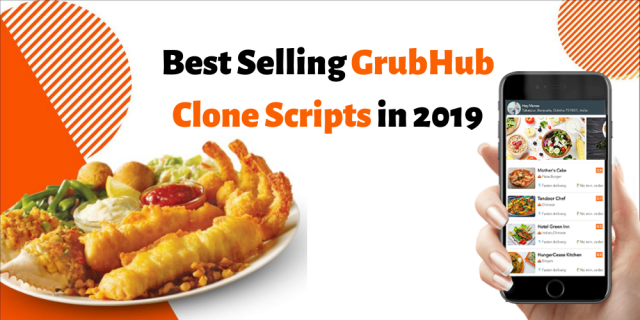 Managing a single restaurant itself is a big task because of the effort you need to put to reduce cost and be competitive. Having said that, just imagine how it would be like to have multiple restaurant chains. Many restaurants struggle because of not adhering to advances like the restaurant management software. 
With increased craze for restaurants and urbanisation, it is inevitable to have restaurant management software for your restaurant business. It is estimated that by 2020 the total sales from the US restaurants alone will amount to $500 billion. Most millennials also prefer eating outside than cook at home.
Obviously there are software for customer management, human resource management, etc, but these are not available as a complete package. But now in 2019 you can find many such fully loaded software which embraces the latest technologies.
There are a few top grubhub clone scripts that provides a complete restaurant management solution aimed and it will be suited for all kinds of restaurant businesses. Here, I have listed 10 of them after much deliberation with market persons and restaurateurs.
We have mainly looked for features like billing, CRM, stocking, inventory, analytics, online ordering, employee scheduling, payroll, and table management. And all the below listed softwares have these functions. You as a restaurant operator, just need to pick the right solution, partner with them, modify the software, and deploy it in your business. It takes only a few days. Now let us see the apps one by one.
Appscrip has a brand new GrubHub like software which comprises online food ordering among others. Apart from the web based software, this Appscrip grubhub clone provides mobile phone app for restaurants, customers and delivery agents.
This platform allows you to manage table-side ordering, delivery take-out, and routing. They use technologies like MongoDB, Nodejs, Angular2 and many more.
The web interface is intuitive with options to redesign manually and independently from the web dashboard. Multiple languages and currency can be incorporated into the software. Go for it if you want a software with multiple language support.
This software development firm offers an online food management software similar to Grubhub app. Some of the features and systems you will get along with this solution are order history, filter management, add to cart, addons, payment management, and whatnot?.
This software is completely customizable and can be easily accessed via tablets, smartphones, laptops, etc. The CRM and delivery system in this solution enables you to have customer engagement, and food order monitoring until it reaches the customer.
They give a white label solution which enables you to keep a logo in any language of your choice. All designs and assistance will be offered by their team. The administrator panel of this software is different from others in that it has options like ability to view user records, mass push notification, clear map view of all orders, access to inventory management, etc.
Some of the technologies used by them are socketcluster, MySQL, Linux, and Bootstrap. Go for it if you want an admin panel that stands out from others.
SpotnEats have a proven track record of partnering with big restaurant chains for restaurant management software. This is a testimony to the quality of their multi restaurant business management software. Their software resembles GrubHub food app.
You can monitor all transactions on a real-time basis from the admin panel. Table orders can be sent directly to the dashboard.
The analytics tools in the dashboard gives valuable info regarding customer engagement, online food delivery, table side orders, etc which can be used to improve the operations. Others features that includes in this GrubHub clone software are supplier management, branding and catalog, order handling, food cost modification, food cost optimization, delivery time optimization, purchasing, inventory control and many more.
Blindly go for this GrubHub app clone script if you need a sophisticated restaurant management software .
This fully functional GrubHub apps script helps you to manage restaurant in a smart way. The software is available as a mobile app and web app on both iOS and Android. It is highly scalable with powerful and sophisticated admin panel.
The solution is white label and is developed in native app development method to give a highly customized performance.
Cost is the one thing that differs them from others. The complete software along with source code comes at an affordable price and it is a steal for such software. Tf you are a small time restaurant entrepreneur, then pick the Appdupe software.
Need a restaurant food ordering software with niche element in it? Then MinTM builds such software. They developed the solution from scratch to get spectacular design with minimal effort, enriched set of features, and completely flexible customization.
Their super responsive solution enables you to do CSV and XLS export, admin managed blogs, and social media login.Small entrepreneurs and food chains can have a perfect start with the MintTM multi restaurant management software.
The food ordering app from Apporio is said to have disruptive features and this solution focuses mainly on food ordering and delivery apart from restaurant management. Multiple restaurant can be monitored on a real-time basis from a single screen.
Multi restaurant chains that needs a hub for managing all the functions should get this software.
Their versatile technology restaurant management software is similar to Grubhub and comes with custom front end UI design, advanced admin dashboard, and powerful analytics framework.
Apart from the regular restaurant functions, they have features in the web app to consider banner ads, subscription plans, commission based revenue models, etc.
This software is a standard back-end structure with in built feature that enable you to launch run the business without much changes.
Having said that, they also do any kind of customization. Ncrypted have exemplary panel support with prompt response team for the Grubhub clone script.
This firm follow a systematic four step process for the restaurant and food delivery software development. The four steps are the design stage, development, testing, and deployment. Their client's base is widespread and they are in constant touch with industry people to make any quick changes in the solution even before it is adapted by other softwares.
The customer app in this solution is specialised and enables them to even to book tables and orders from the app. Other features are real-time order tracking, viewing estimated time of arrival, and online payment. Choose this software if you want to give your customers an immersive experience.
With a group of expert developers, designers, and executives with them, it is not only a good experience to work with them but also gives you a well crafted multi restaurant management software with more emphasis on food ordering and delivery.
Alphanso tech has seven years on in-field experience with vast domain experience, and quick turnaround time. This software is the same as that of others but some features are unique to it like the option to order materials from the admin dashboard.
A whole set of new features are also available but is incorporated in the solution only on request. Go through all that and pick this solution if you are pleased.
Final say!
I hope you have a good idea about the variety of multi restaurant management software with online food ordering in it. All these softwares are handpicked after much effort to present the best of the best. The base operation of the software is the same for all but each of them has something different to offer.
Analyse your business and write down the set of things you desperately needed and pick the solution that satisfies the list. Also, keep an eye on the data security and constant updates in line with the latest technologies. Often many people overlook these two.