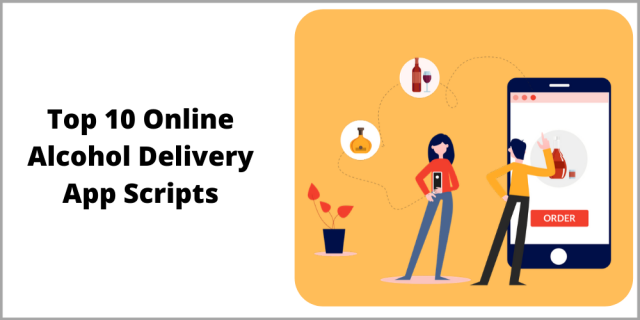 Alcohol delivery is an interesting concept that comes under the on-demand food delivery category. The scope of this model is very good, but many entrepreneurs and on-demand enthusiasts are not sure to start because of regulations. There was worry about the serious chance of misusing the online alcohol delivery model.
Things have changed now and more stringent measures are implemented to make alcohol delivery not being misused. ID cards are mandatory to order and accept delivery. 
Since alcohol delivery is now easy to launch in many leading cities, it is better to start your own taxi startup before it is too late.
Alcohol online delivery startups require you to have a perfect fit app solution which comprises of four interfaces.  Below I have listed a variety of top 10 alcohol delivery scripts. Read the explanation and take informed decisions.
If you are a technically sound entrepreneur who wants the same in your on-demand alcohol delivery solution, then SpotnEats is the right choice. They have an impressive technology stack of all. 
For both iOS and Android, perfectly matched software and technical resources are used. The alcohol store web panel is tested with many platforms and devices so that it is foolproof and work smooth on all occasions.
Special emphasis on design in the customer ordering app to enhance the look and feel; vivid colors and gradients are used to give the users an immersive experience.  
Appdupe alcohol delivery solution is a newly made solution for international markets like the US and Europe. Multiple languages and currency can be accepted by this software and hence tourists won't find it difficult to order alcohol.
The customer app of this solution has a provision to upload ID proof for quick verification and dispatch. From the delivery person app the person can scan and verify the customer ID while delivery.
The admin app of this solution has a separate panel to check and help register new alcohol outlets. Choose Appdupe if you focus more on ease of usage and smooth navigation.
This is a branded alcohol delivery product mainly for small and regional startups. Some core features of this solution are scheduled booking, real-time tracking, god's eye view, and promo codes.
This product has a separate section for selecting wine; this will be liked by wine lovers who are very specific about selecting wines.
The Esiteworld app is made with state of the art features, yet the cost is competitive.
V3 Cube is the only maker of dedicated wine delivery app like Ubereats. Along with the option to order wine, there is a provision to connect with professional wine tasters to get suggestions.
Many never before seen features are present only in V3 cube app. When you choose V3cube as your product partner, you can launch the startup in less than three business days.
Other alcohol-related services can also be added to give more options for the user. Delivery agents can register their details in touch and see past orders and commission with ease.
Trrioangle's alcohol delivery solution is a clone of Gophers and it is highly reliable to fit any alcohol delivery business model. If you are planning to attract a wide range of users from different regions, then it will be very easy when you use this solution. 
This alcohol delivery app is suitable for many delivery services like wine delivery, etc. The cost of this product is affordable so that many bootstrapping startups shall build their business quickly.
Saucey, Thirstie, and Drync are the top startups in the on-demand alcohol delivery market. Oddappsclone makes an exact replica of these top apps. So if you need a professional app solution with a global appeal, then I think it is better to partner with this company. 
Authorized payment gateways like Stripe and bulk SMS sending API like Twilio are present in this solution. The interfaces are made with rich UI with 100% customization and consistent support.
Appsrhino have dedicated solutions separately for marketplace model, single alcohol stores, and alcohol outlet chains. Each of their offerings are uniquely made for niche audiences. Features and feature list is different for each solution.
For the marketplace model, they give a basic model with fundamental features at a competitive price aimed at small entrepreneurs.
The customer feedback system in this solution is directly connected with the Admin panel, so any queries and complaints can be quickly handled. Visit their product page to find more details.
Traditional liquor stores who are looking to go online using a complete online delivery solution can pick this solution. Sun web technologies developed this especially for traditional stores. 
Some top functions of this solution are customer verification, search by category, expert suggestion, and delivery scheduling.
This development company gives unmatched support and quick turnaround time. Their development and design team have diverse expertise and deliver the product on time.
Alcohol delivery app from this brand is named Lacy and this is by far the most simpler version of a delivery solution. A new startup in a tier 2 or 3 town shall get this solution for a limited user base.
UI/UX design of this solution is the highlight with more vibrant and deep gradients are used; this is done to match the current trends. Scheduled orders, recurring orders, etc are some features developed by them. This development company is open to new ideas and works hard to materialize them.
This is a minimum viable product with basic features. Complete source code will be provided on purchase without encryption. This is a robust solution that is not limited to features like store locator, geolocation, order tracking, and multiple payments.
The script is systematically developed to allow independent customization by the clients. After-sale support is also good and worth the cost.
Wrapping up!
Alcohol delivery business will heat up in 2020 because of some regulation relaxation. Hence, quickly catch up with the demand and launch your startup with any one of the listed firms as technology partners.

Each of them is good in some aspects. Choose the solutions wisely by assessing all the factors.