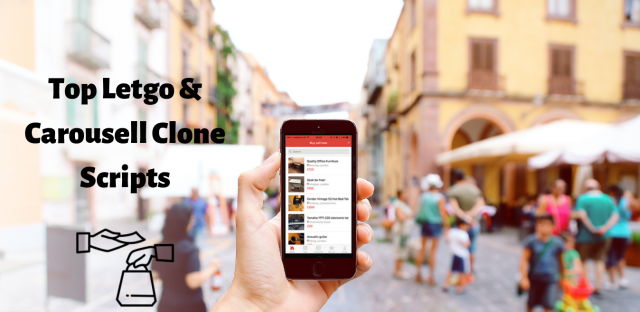 Online classifieds which includes buying and selling is always in demand in Western countries. Letgo , and Craigslist are the market leaders in this domain. The total revenue from online classifieds is $25 billion in 2019. 
If you are an aspiring internet entrepreneur with good persuasion and marketing skills, then I hope the online classifieds is the right one for you. For that first have to create a quality website, mobile app and advertise it to get the sellers to list in your online classified.
For a quality website, mobile app, and admin panel, you can use pre built solutions from software makers. Here I have listed top 10 leading letgo and carousell clone script solution providers who has quality software solution for online classifieds business. They are on par with Letgo, and Carousel. You just need to purchase and launch your startup right away. Go through one by one and choose which is right for you.
Passup is the buy and sell app script of trioangle similar to the letgo app. This online classified app is available both as a web app and Android mobile app. Added advantage if you use Passup for your online classified business is the ads. All the features in letgo are available in this script.
Just get this solution and after a small modification, you can launch the app immediately. Advanced filters, message support, location based search, and multi product listing are some unique features of passup. If you need these features, then go for this solution.
This script is unencrypted and any changes can be made after purchase. The product license is given for life time after a single payment.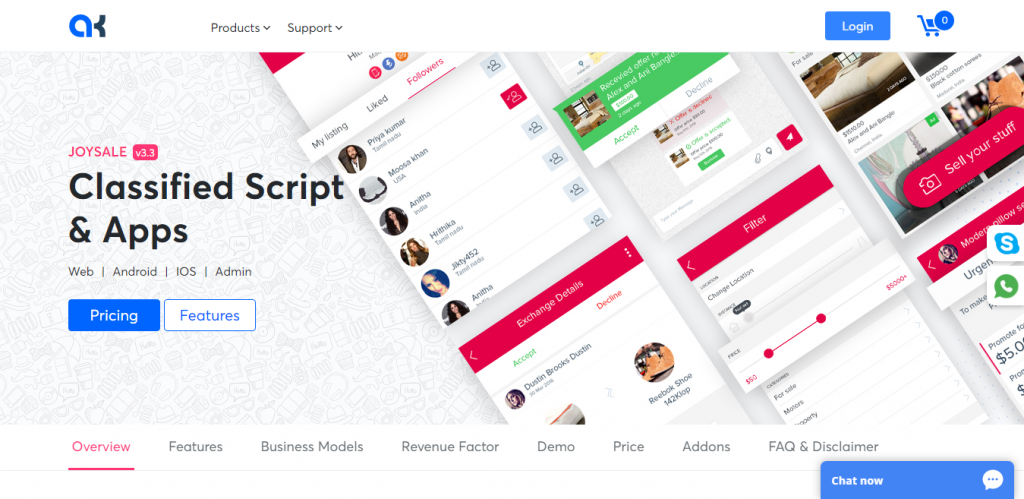 Appkodes developed a letgo like buy and sell app called Joysale. This app is an end-to-end admin controlled classified solution. Joysale is tweaked to enhance its functions. The listings are curated to suit the customer advertising goals. Apart from revenue from ads, revenue based on CPM can be enabled.
Joysale solution can be customized for automobile classifieds, real estate classifieds, and job classifieds.
You can provide a safe and secure experience for buyers and sellers with our app script. Appkodes developers can work on design, development, and security. So whatever modifications you need, Appkodes can do it.
If you need a C2C online marketplace to buy and sell any items, then kick start your online classified startup using Appdupe solution. This app is similar to letgo and this is loaded with all features with 100% customization and most importantly a whitelabel solution.
Appdupe has made this app to accept four revenue streams in the form of commissions, advertisement, ad syndicate, and premium service.
Admin features of this solution are user management, content management, analytics and insights, and promotion. If you need a classified app with strong admin dashboard, then go with this solution.
An added advantage of this solution is that it is made with native apps and complete source code will be given to the clients.
Yealo is a classified script similar to Offerup. Yealo is packed with technologies like Nodejs, GraphDB, and MongoDB and so it is highly scalable, secure, and fully customizable.
Social media is integrated with this app and so the buyers and sellers can follow one another and receive important updates. Yealo buy and sell app is carefully developed to give an overall marketplace solution for entrepreneurs.
The UI/UX design is outstanding and gives an international feel. Pick this script if you need an app with colorful design and interactive experience.
This feature rich online buy and sell marketplace is a top solution and all the features are similar to Offerup app. Features and designs from top classifieds app like Letgo, and Quikr can be replicated in this solution. 
This script is already used by 15+ startups in many countries. This solution consists of buying and selling marketplace website and mobile app, and an admin panel for overall software monitoring.
This solution has the option to make promoted posts, 3 types of filters, post an ad, and get valuable insights from the admin dashboard.
Rebustar is the buy and sell app script of abservetech made like Letgo. It is available in both iOS and Android. Any customization on designs and performance can be made based on the client's expectations. Nodejs and Firebase database is used and so no problem of scalability. Android and iOS apps are made in native and can support from Android kitkat version.
A live demo is offered by them and it can be requested through an email. Pick this solution if you need a simple and affordable app solution.
This is the best performing and simplest classifieds software. There can hardly be a more robust digital platform than the one powered by this immensely popular script developed by iTechscripts. High degree editability, amazingly low pricing, search friendly features, amongst others, are some of the star features of the product. Fully open-source, no encryption.
They offer a free SSL certificate, free hosting, free technical assistance, and software update. Go for this script if you need outstanding post-sales assistance.
Happy deal is the Carousel script developed by Samsaj. A cool looking script for a shopping/selling site. Shopping can now be done with ease from home with trust and quality in Happy deal classifieds app.
Unique features of this app are in-app chat, foreign currency acceptance, tracking shipments, and managing exchanges from the admin panel.
This app solution is available in three different packages. Each varies only on after-sales support
The Apptha letgo clone app is on par with the original online classifieds app. This solution is a hyper-accommodative buy sell app that can be modified to suit any online marketplace business needs. From UI/UX changes to scalability and performance upgrades, Apptha can do any changes.
User reviews and ratings, multilingual capability, advanced filter, product image slider, etc are some features unique to the Apptha clone.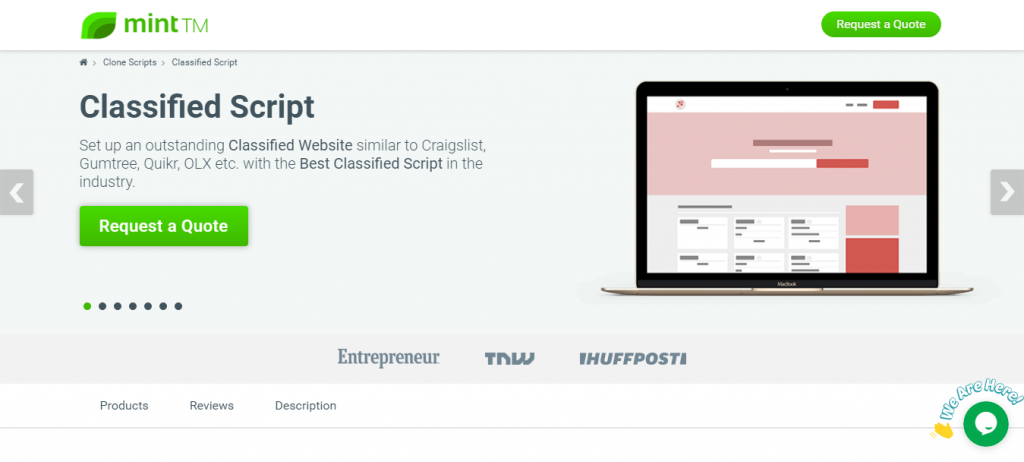 This is the best available online classified script made especially for entrepreneurs who want to launch a buy sell startup like Offerup. This app enables customers to post unlimited ads without any fee. Ready made script is available and custom made solutions are also made on request. Users can also mark their ads as featured, urgent or spotlight.
The admin has full control over the operations from the admin panel. The admin can easily edit the categories, sub categories, pricing structure, ad plans, and allow sub-admins. Wide range of features from top classifieds scripts are already attached to this solution.
MintTM also offers complimentary deployment and free installation so that you can focus on your core business.
Conclusion
I hope you have a good idea about the leading online classifieds solution developers. Now, make a checklist of all your expectations for the online classifieds app and find which solution fulfills the expectations. The checklist must also include factors like cost, time of development, and after sales assistance.
Finally, get the best app and launch your startup right away without much thought.