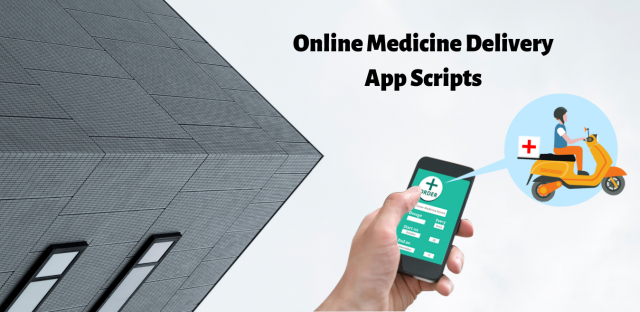 Healthcare is the only field where the on-demand model is not applied to the fullest. But the time has come now because of the urgent need to bring on-demand medicine delivery, telemedicine, and on-demand doctors. These apps can fasten the goal to reach quality healthcare to all people. The benefits of running these app startups are also high. In 2 years, it is estimated that around 4 million health apps will come to the market.
If your looking to launch a startup, then now is the right time to enter this field. Quickly start an on-demand medicine delivery startup with very less investment. Run this using the online marketplace model. The app solution for this startup is readily available with many software makers. I have handpicked some top 10 of them after considers many factors and presented here.
Go through it and make good decisions about the solution. Partner with them, do customization and launch the startup right away.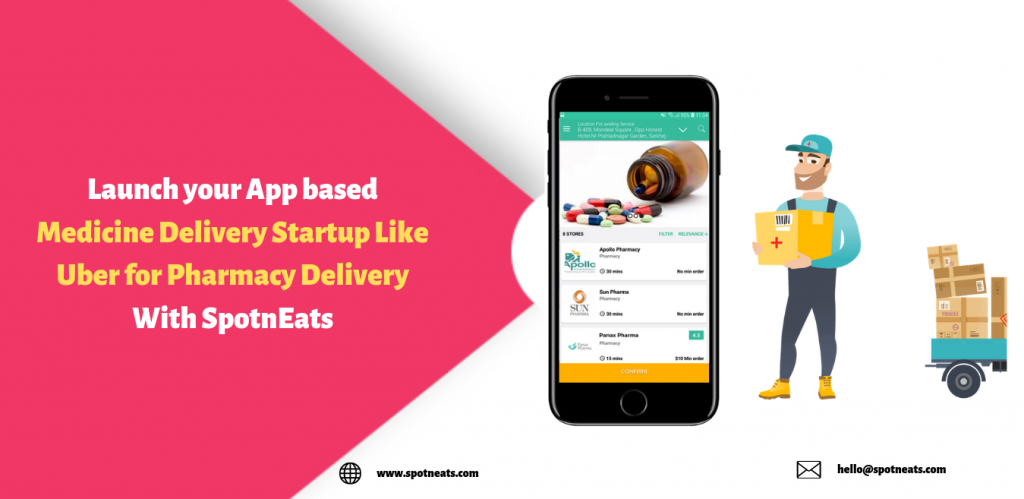 SpotnEats presents you with a delivery app which is a notch higher than other is all aspects like design, code quality, user interface, and scalability. 100% customization is available and full source code will be given to you.
The customer app has rich UI, order tracking, live chat, scheduled delivery, mailing list, and multiple payment options. Pharmacist web panel has drug listing management, stock management, view reviews and ratings, analytical reports, order alert, and many more.
Similar features are also in other apps. API integration can also be made in SpotnEats delivery app. Purchase this solution if you need a delivery app loaded with features.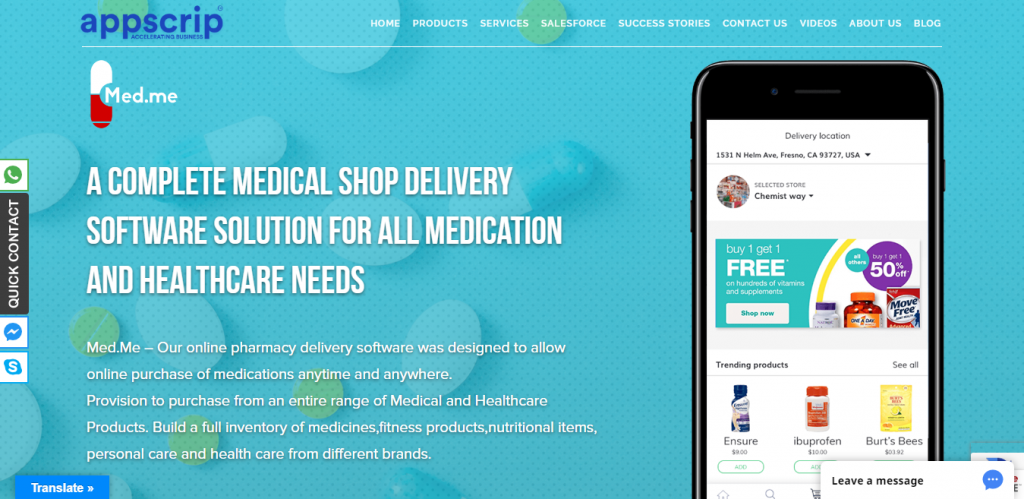 Med.Me is the medicine delivery app of Appscrip. This is a complete solution for your startup and satisfies both you and your customer's needs. Advanced filtering, prescription upload, integrated payment system, real-time job status & support are some top features of Med.Me.
Admin panel in this solution can do store inventory management, fleet management, commission setup, order analytics, and many more.
This app is inspired by Practo and MedPlus and has feature rich admin panel. The overall solution is highly scalable with robust architecture. If you purchase this solution you will get complete source code with long term support.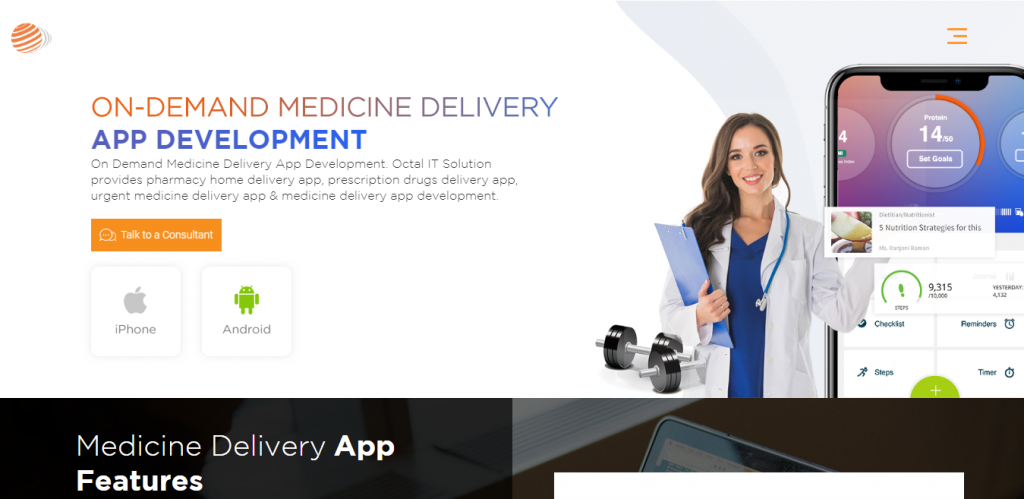 This is the only on-demand delivery app with pharmaceutical CRM software and MR reporting software. Apart from getting this app, you will also get some expert advice. Octal software has a dedicated team with a flexible environment and so you can give your inputs for development with ease.
This software has advanced features like cloud management, automatic dispatch, in-app payment, auto ETA, reservation management, and operational zone setup. Go for this app if you need sophisticated tools for customer management.
The price for this app is fixed and complete source code will be given to you.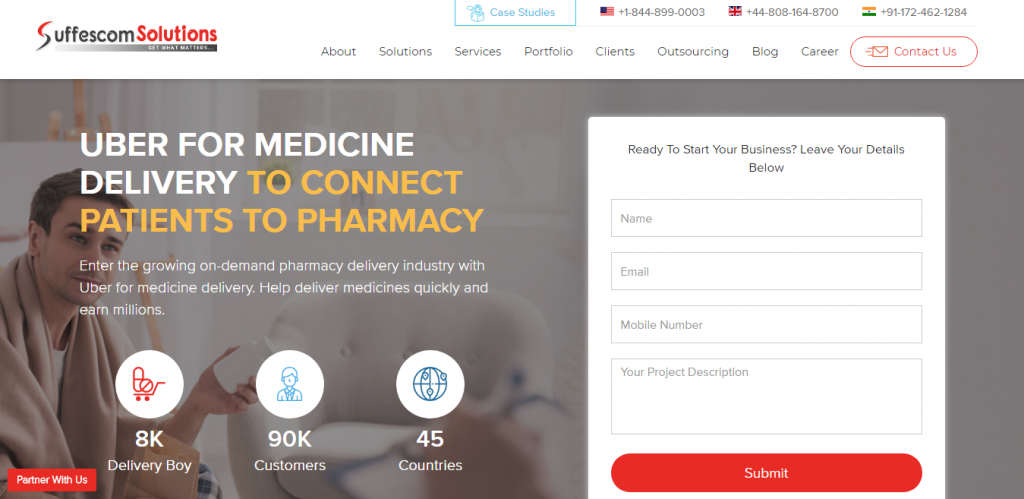 This medicine delivery solution has an attractive and interactive dashboard, app for customers, delivery agent, and admin. With just five steps you can get this solution and launch the startup. This script is built from scratch using the latest technologies. This makes the app to run smoothly on all kinds of devices.
Customer and delivery agent app in this app has features like refill order, order tracking, in-app chat, agent profile management, view digital service proof, in-app navigation, etc.
This solution has an international feel and is used in 45+ countries. Choose this app if you want to operate in more countries.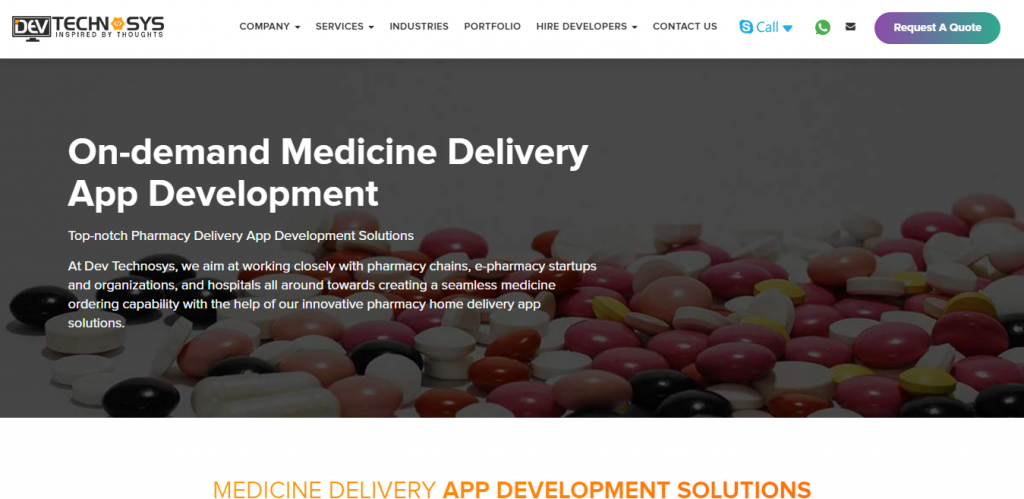 Devtechnosys medicine delivery app will be more professional than any other because they work closely with pharmacy chains and hospitals to develop the app so perfectly. With just three steps a customer can buy medicine using this app. This is because the app is designed to be highly interactive and user-friendly.
Apart from all this app has POS software, multi-lingual, and multi-platform feature. Scheduled delivery, manage online outlets, etc are features only in this app.
Get this solution if you need an on-demand pharmacy delivery app with amazing UI/UX design, robust architecture, global design, and made from native apps.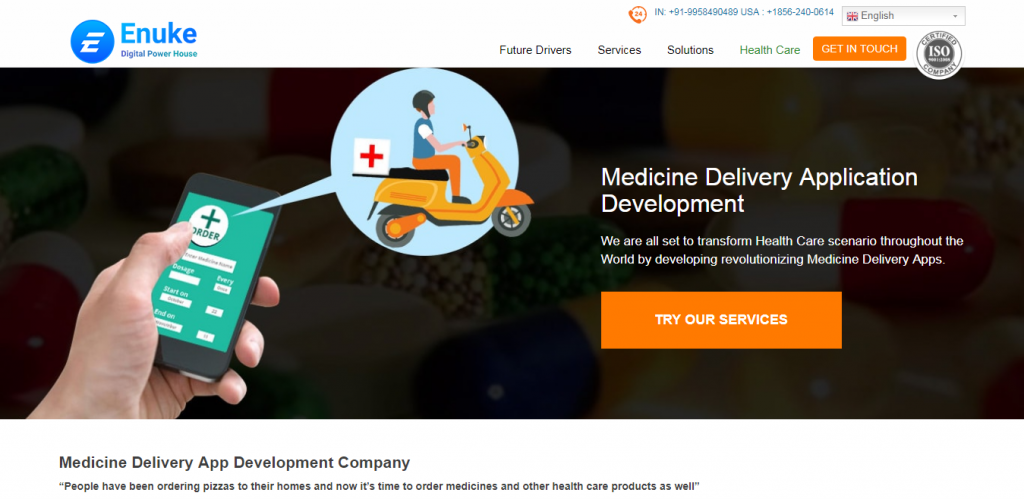 Transform the healthcare market with the medicine delivery app from Enuke. Enuke is closely working with many pharma companies to build a medicine delivery app with so much flexibility. Outstanding customer experience is made the prime focus while development. This solution also has a telemedicine feature integrated with it so that people in remote places get quality healthcare and medicines anytime.
Go for this solution if giving quality healthcare is the main goal.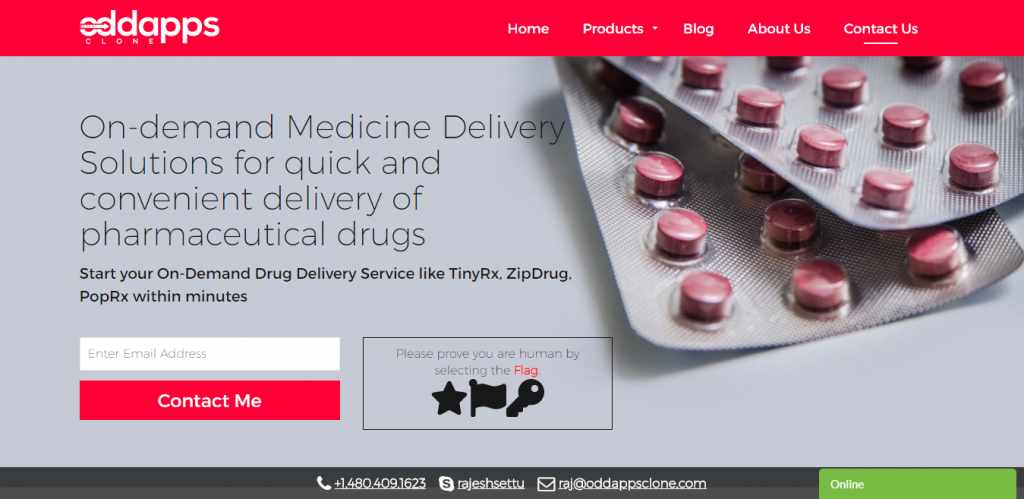 Their medicine delivery app is built similar to TinyRx, ZipDrug, and PopRx. All the fundamental features you would expect in a pharmacy app is present in this solution.
Third-party app integration like Twilio SMS, Facebook API, Instagram API, PayPal, etc are present in this solution.
Just go for this app if you need a solution that needs to integrate any kind of APIs.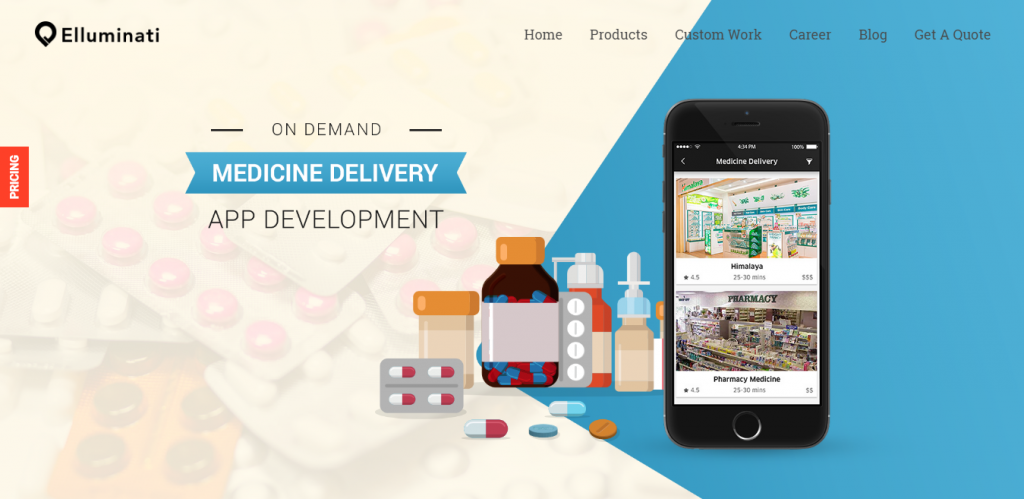 Nurx is the market leader in online medicine delivery. Elluminatiinc has developed an app that closely resembles Nurx in every aspect. One place where Elluminatiinc stands out from others is the UI/UX design. Perfect designs with the seamless interface can be seen in this solution.
Both you and your customer will get a global feel while using this app. Code quality is made top-notch so that the users get consistent performance.
Go for this solution if you want to launch a delivery app that gives a new refreshing experience to you and your users.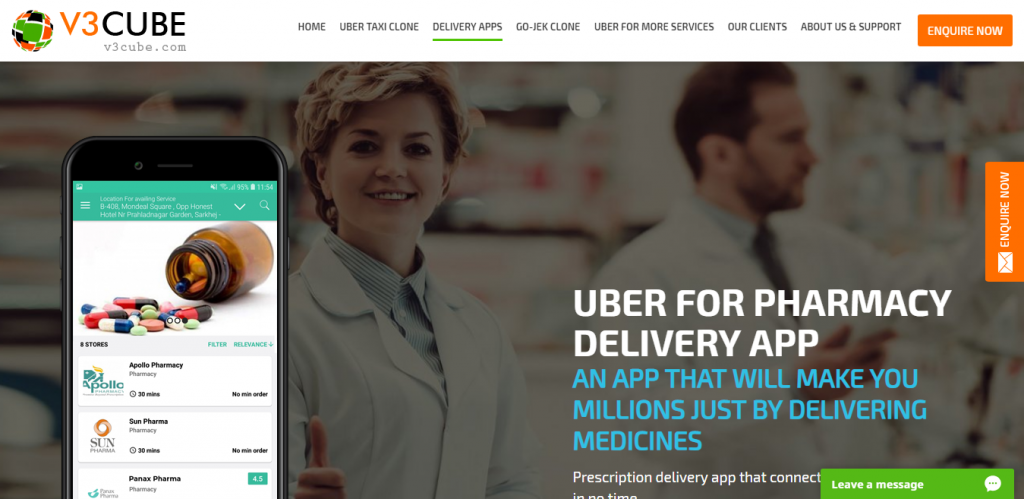 The pharmacy delivery app from V3 cube can handle millions of orders in any given time. Features and settings in each of the app are just like a normal medicine delivery app.
V3 Cube provides free app installation to the store, 100% unencrypted source code, lifetime license, and licensed code open for customization. You can get a live free demo of this app anytime on request. You can get the app with whitelabel and fit a customized logo of your choice.
Real-time tracking, promo codes & referrals, and god's eye view are some core features of this app.

This delivery app is mainly developed for medical marijuana delivery. Since it is legalized in many places, the scope for it is good. This solution can be modified seamlessly to fit medicine delivery by their developer's team. All the customizations will be finished within days and you can launch immediately.
What you will get from them is a turnkey solution, powerful admin dashboard, scalable product, and apps made from native technology.
Conclusion
On-demand in healthcare is unexplored and it is good that you have got the idea to enter this field. Now I hope that you have got a good idea about the top 10 app script for the solution. By selecting the right solution for your startup, you are half done. So take a good time to analyze which solution matches your needs. Pick one soon and launch your app immediately.