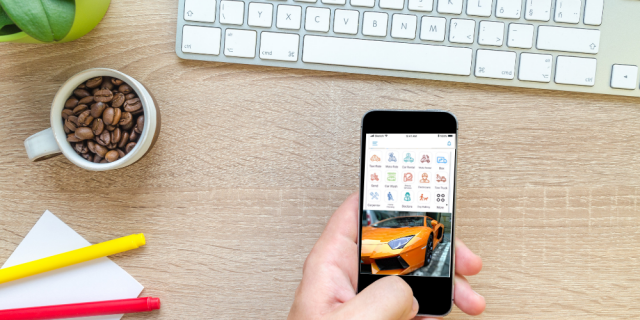 No one can deny the ongoing demand for on-demand services at present. Starting from taxi booking to booking rooms on the app, most of the services can be availed on smartphones. This potential for app based services is harnessed by many entrepreneurs and they started to offer some innovative services which ease the day-to-day problem. Providing a single service on an app seemed to be ineffective in many regions owing to non-existence of demand.
What if you can offer various services on a single app so that users don't want to use different apps for different services. Gojek is one such multi-services app which provides more than 18 services. This option is cost effective and you need not depend on a single revenue.
The Gojek app has been downloaded 100+ million times. And more than 25 million people use it per month for various services. This stats are impressive relative to other single service apps.
To make you work easier, some solution providers have built multi-services app similar to Gojek. This ready made solution can be used straight away after some customizations.
Not all of them have the right Gojek clone scripts. So, we have analyzed all the scripts based on scalability, code quality, UI/UX design, cost, and many other parameters to select top 10 scripts.
Go through each and every solution provider and choose the one that is apt for you. Not to mention that these scripts are all good and each has some unique capabilities.
If you want a Gojek like app with robust performance, impressive UI/UX design, and a highly scalable, then choose SpotnRides without any second thought. The team at SpotnRides have constant feedback from industry persons and existing clients to upgrade the solution.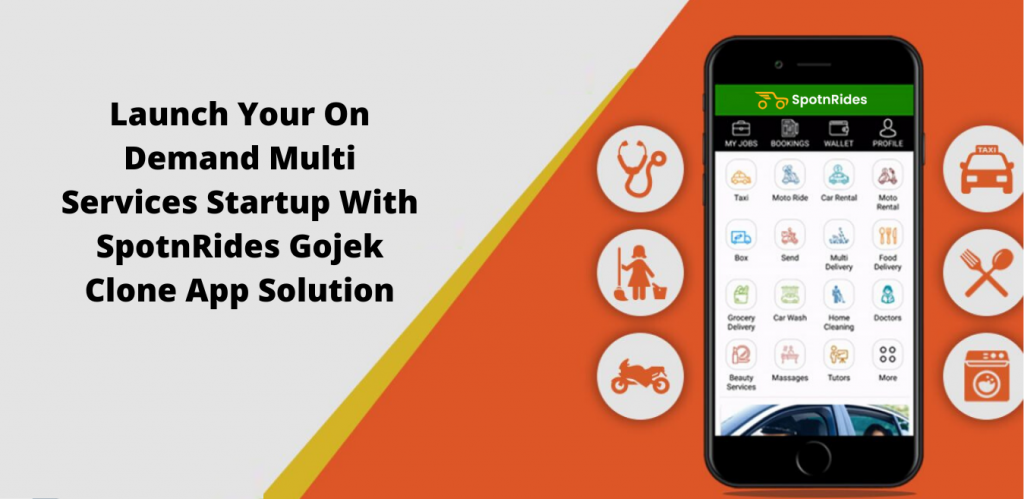 The user interface is so finely made that the customers will feel effortless while browsing and navigating. The advanced tech stack is used not only to improve app performance but also to make it flexible for scaling and feature addition. An unlimited number of requests can be handled by SpotnRides given the database used for it.
To conclude, pick this Gojek clone for a complete solution without compromises.          
In Zoplay Gojek clone, more than 10 services are available and the script is flexible to add even more features required for you. This multi-service app solution is completely customizable and can handle numerous service requests simultaneously. This script is readily available and you don't need to be a pro to use this app.
Each service is integrated in such a way that the designs and user interface is top notch. Some top features are estimated time of arrival, GPS tracking, an approx fare of the service. This solution has an international touch and those who want to start this startup on more than one countries can select this clone script.
Appdupe Gojek clone script is developed to provide 30+ services like ride hailing, delivery services, and many more other services. Their solutions package includes white labelings, user-friendly design, Android & iOS app, and completely licensed source code.
The rate card, SMS push notification, Scheduled booking, and recorder service booking history. This is just the tip of the iceberg. Go for it if your startup has a lot of services and needs an app with high scalability.
Starting from taxi booking to car repair, all necessary on-demand services are available in this Gojek clone script. The Android and iOS app are made in native technology. This script has an outstanding web panel for all the services integrated into a single dashboard.
They have a Gojek shark package with separate delivery service, on-demand services, and ride service.
Elluminati Gojek clone is made to support twelve country's language and their currencies. The design and external customization are done with equal participation from their UI/UX design team and the client. From choosing the favorite color to the shape of the icons, you have the liberty to do anything in this script.
Not to mention that they have the best designers to help provide the users with great user experience. This solution is for entrepreneurs who need a Gojek like app solution with impressive design and user interface.
FoxJek is their Gojek clone app. This clone script has 18+ services. The transport and delivery services are well made in the FoxJek clone. They provide 8 apps in a single package which consists of 4 iOS apps, 4 Android apps, and 1 admin web panel. In-app live chat, reviews & ratings,
The FoxJek script is so flexible that you can add any number of services even after the app has been made live.
E-site provides the complete script of the Gojek clone. So, you can do any kind of changes in the future without depending on us. The customization cost is low and white labeling is available. They offer free support over calls anytime and free bug support for 365 days. Android, iOS store submission,
Apart from all this, they have unique paid add-ons like VoIP based call masking, advertisement banners, real-time currency rates, and many more.
Service Joy is their Gojek app clone and it is not just another multi-service clone app similar to Gojek. They have many tailored services that can be added to the app. After all the customization and patch work, the installation won't take longer than 2 days. Select this solution if you need to start your multi=service startup quickly.
This GoJek like app facilitates to serve the best for different business domains like on-demand taxi service, on-demand delivery service of stuff like food, grocery, flowers, etc. and on-demand handyman services like plumbing, gardening, painting, masonry and many more. Apart from support to the clients, they also put some effort to provide other support to satisfy the customers.
This script has two app and six web panels. This app is compatible with any device with any screen size, scalable, reliable, and durable.
Their Gojek clone script UBGojek app development solution is 100% customizable with more features, enhancements, and integrations as per your business requirements within 48 hours.
Some unique integral features of this solution are an online chat with the user, god's eye, banner ads, and time-slot selection.
Apart from that, you will get free brand removal, 36 months of free support, free installation, and 100% unencrypted code. This solution is best for those who need extra integral features.
The original Gojek app has some loopholes in it and Coruscate solutions app script plugs all the loopholes in the original app. Instead of providing tailor-made additional features, they refine and restructure the services in their Gojek clone script. This app is an exact replica of the original solution.
If you need a solution which is a mirror image of Gojek, then go with this script.
Wrapping up
First, make a list of all the requirements for your startup and note down the services you are willing to offer. Now, select the best solution based on this list. Currency, language, and regional diversity also plays a great role in selecting the script.
Quickly do away with the right app solution and launch your startup.