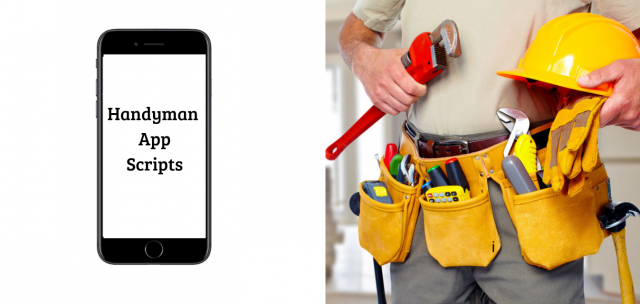 Handyman services are always in demand in this world of globalization and frequent movement to other places. But, many a time people find it difficult to connect with the right handyman because of non-visibility. So, both the users and handyman service providers are facing difficult even though the demand is high.
Like any other traditional services which are innovated using the mobile app, handyman services can also be subjected to innovation. The result is the on-demand app-based handyman booking. Users can search and book the required handyman anytime. This can be launched as a startup by entrepreneurs and start earning money for every booking.
Global handyman services yield a revenue of $5 billion per year and has a compounded annual growth rate of 8%. So, you have every reason to enter this market. Now, the first step you will be doing is to select an app solution.
The right app solution for your startup depends on a lot of factors and here I have mentioned the top 10 providers of handyman booking app solution. All these solutions are pre built and require little tweak. Let us see one by one.
The Dectar handyman booking app comes with a well-designed feature making it easy for users to access the service seamlessly. The powerful user interface gives an all around experience making this app different from others. If you are looking for an app with excellent UI, then look no other and go for it.
Dectar handyman app is completely customizable, prebuilt, and have easy cloud installation. Some advanced features of this solution are detailed tasker profile, job tracking management, and unifies payment system. To give the best, Dectar has made this with modern tools like socket.io, node JS, etc.
We had developed different types of applications for various industries like services & start-ups. We are providing excellent handyman app development services. This uber for handyman script is cost-effective & can be used by anyone who wants to develop his own on demand handyman app, thus maximizing profits, and gaining more customers quickly.
This solution supports multi language, multi currency, and multiple payment systems. Apporio handyman app solution also has 18+ advanced features that can be added on request. Your customer can easily avail any handyman service in just four steps.
SpotnRides is a Uber like app made for handyman booking startups. The design is perfect without any flaws. The solution is developed with good quality code and it is so flexible that extra features and latest technologies can be implemented anytime without any problem.
Scalability is not an issue because of the latest databases used. They provide excellent after-sale technical assistance like free updates, free maintenance for some time, and timely bug fixes. Complete source code will be given to you so that any time customization is possible.
Jungleworks handyman app similar to Uber is a technology suite that empowers many business services. Route optimization, real-time in-app chat, and business intelligence are some unique offerings in this solution. If your startup needs a handyman booking app with powerful integration, faster implementation, dedicated after sale support, and high scalability, then this is the apt solution.
Jungleworks handyman solution is now used by more than 40 businesses globally.
Zoplay handyman app solution has instant alerts for users, auto estimated arrival time, new bill generation, individual login for taskers, and instant chat. With advanced backend configuration, you can track reports, taskers, and check rating. The user can do booking fast because it is developed using the mongo database.
They do the installation free of cost with a turnaround time of fewer than 2 days. After the solution is deployed, they give technical assistance like customization changes, bug fixing, etc.
V3 cube handyman app consists of main website, handyman & client's web panel which is 100% responsive. This solution works without any hassles in iOS and Android platforms with whatever screen size. The core features of this app solution are real-time tracking, book now or schedule later, god eye view, promo code, and referral. This features list is not exhaustive.
This is very much similar to TaskRabbit which is the top handyman booking app. App approval on the app store, installation, wallet, white labeling, and advanced analytics are offered free of cost.
Nycrypted's handyman app is a versatile solution that comes with custom front-end UI, advanced admin dashboards, powerful analytics panels, etc. This handyman app has features for more than 12 services which can be accessed by the customer without any hassles.
They follow six step process for a perfect handyman app development. The solution is made keeping in mind the future scenario to handle big data and scalable architecture. Get this solution if you need something that is future ready.
The Uberdoo handyman app is made with cutting edge technology to improve performance, scalability and better workflow. Uberdoo provides 12 months free update, 36 months free support, free brand removal, free installation, and 100% unencrypted source code so that you can independently alter the solution.

The final solution after all customization will be realistic and the user will get great user experience.
This solution is suitable for two kinds of people, one is the person who runs a traditional handyman business and wants to transform to the next level. Another is the person who is already running app-based handyman startups but wants to scale it to expand to different regions.
This app is available for a live demo and you can request for it anytime. Save card details, service cancellation, and live tracking of the provider are some core features.
Assistance to locating nearby handyman, book now or schedule later, unified payment system, and service provider tracking are some fundamental features in this handyman app. They also add some extra functionality to the app which makes you stay ahead of others.
Being completely automated, and available in multiple languages, this application accepts payments from wide payment modes. This also has the facility to schedule the services to a later time as per convenience.
 I hope now you have a brief idea about each of the top ten solution providers for the on-demand handyman app . Analyze it get the right one for your startup.