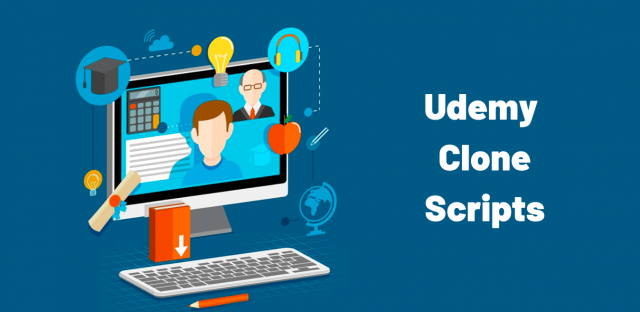 The potential for e-learning and online learning marketplace is growing day by day. This demand is fueled by poor access to quality education and teaching. Startups like Udemy harnessed this demand to form an e-learning platform.
Corporate training alone stands at $200 billion of which e-learning accounts for $56 billion. 25% of the employees leave because of poor access to training latest advancements.
The demand for this type of service is everywhere and emerging entrepreneurs can use this to create a powerful online learning marketplace. Numerous revenue options like ad, subscription, etc are available. It is possible to create a solution for this startup very much similar to Udemy. The e-learning can be accessed from both mobile app and web.
To make your work easy, there are many vendors who developed Udemy like solutions from scratch with so much flexibility and scalability. Personalized features specific to your region can be added in this anytime.
We have painstakingly searched and consolidated top 10 Udemy like e-learning scripts which is different from one another. Some of the factors we took into account while selecting are code standard, flexibility, scalability, ability to provide seamless user-interface, and top-notch user experience. Each of the ten scripts is better in their own way.
Agriya presents teachr – a user-friendly online teaching software solution for entrepreneurs passionate in teaching. Teachr is very much similar to Udemy. This software is made with high-potential features like multi-language support, instructor dashboard, master tools, wishlist, course sorting, and curriculum selection.
Some unique model exclusive to teachr is downloadable lessons, MOOC affiliate, analytics, and video external embedded lesson.
From the sales point of view, Agriya gives 12 months free update, 3 months free support, white-label solution, and full access to source code. Try this if you need excellent after-sales assistance.
Pinlearn is one of the world's leading makers of top quality online teaching software. Some personalized features of this software are multiple payments, advanced tutor dashboard, cross-platform compatibility, and white label script.
Pinlearn software is open source with native apps, cutting edge features with a modern standard, and dynamic dashboard. Pinlearn offer premium and regular script for big businesses and individual entrepreneurs respectively.
NCrypted Udemy Clone Script has functionalities that make it look more attractive to users and help you get more revenue. The success of classified software greatly relies upon proficiency, flexibility, and professionalism of a support team. We have developers on board that will push you further by providing expert-level customization.
Ncrypted follows a four-step process while developing and customizing the app for clients. The processes are ideation, conceptualization, implementation, marketing, scaling up, and deployment.
This script is made with a scalable architecture, can handle big data, and customized to suit any business model.
Uberdoo online teaching software is a combination of features from Lynda, Coursera, and Udemy. This e-learning software has features like bootstrap responsive design, theme management, social login, and multiple payment gateways.
The web frontend is made with Laravel 5.5 PHP framework. Not only the web app is good, but the mobile learning app is also equally good with interactive interface. The mobile app features include in-app discussion, course remainder, hi-tech learning, and quiz. If you need a solution with an outstanding mobile app, the Uberdoo software is the right one for you.
Abservetech's e-learning software is Edustar which is a clone of Udemy and Lynda. This software helps entrepreneurs to build powerful online education marketplace capable of holding ample service. This script is preloaded with rich features like page management, language management, course management, blast email to users, and some more.
Complete script will be given to you so that you can independently modify the solution by adding any features even without their assistance.
The Edustar e-learning script comes in two variants, one is basic and another is pro.
This Udemy clone is compatible with the WordPress content management system backend and it works with thousands of WordPress plugins. In addition, custom-plugins can be created by using the PHP programming language.
Apart from it, some features in the web app are an instructor admin panel, students forum, online quiz, digital certificate making, and many more.
AIS technolabs enables you to deliver their own e-learning marketplace with all of the features similar to Udemy. The script is flexible and can be modified easily.
This is the best in the industry Udemy clone script with perfect and eye catching designs. They also help build the script from scratch which is also SEO friendly. This solution is enriched with features and complete customization support will be provided at the right cost. Some other perks of getting this script are responsive design, CSV & XLS support, advanced search options, and smooth online video streaming.
Just go for this solution if you need a Udemy like e-learning software with high quality UI/UX design.
This solution is specially designed for mobile apps and web app is also included. Their customer-centric approach enables them to provide the solution without any compromise in the mobile app and web app.
Advanced scheduling, student database management, and API integration are some features unique to this solution. They follow a new method of app making which comprises of understanding client's need, do market research, development, and testing & deployment.
Since everything is done in a phased manner there is no space for confusion and finally, an impeccable app solution will be presented to the client.
Spedemy is the e-learning clone of Lynda, Udemy, and Coursera. They provide SEO optimization, free installation, free maintenance, and Spdemy in both Android and iOS app apart from the web.
More than 80,000 courses can be added to this solution and it works without any hassles.
With appdupe's white label e-learning solution you will have access to prices, commissions, and courses offered to your customers. The app version is user friendly and has a reliable management system. It is also possible to download videos and watch it anytime at the comfort of your customer.
Ad management is there in this solution which is unique to it. Appdupe also provides free support for installation in any platform.
All the service providers listed above are good and choosing one among them is better. But be sure to select one that is appropriate to you is based on cost, compatibility, target users, platform, etc.