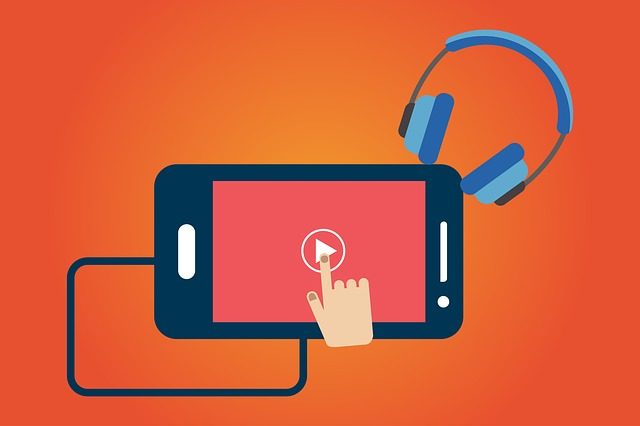 The reason behind the rising global demand of Netflix clone script apps in recent years is the prodigious success of video streaming ventures. In 1997, Netflix started as a small DVD mail distribution firm, and today it leads the highly profitable global video streaming industry.
With US$ 117 million paid subscribers and US$11.5 billion dollars in revenue, Netflix is among the biggest success stories in the entertainment world and definitely, the one new video-on-demand businesses should look up to.
Understanding the demand & popularity of Netflix clone script builders among aspiring startups, our team of research experts undertook thorough research to bring the best readymade Netflix clone scripts for startups.
Let's have a detailed look at the best Netflix and Hulu clone script builders.
AppDupe Netflix clone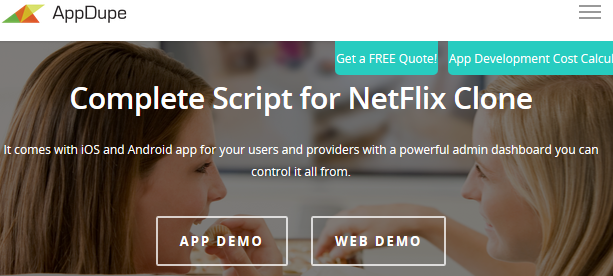 If you are an entrepreneur looking to build a Netflix-like streaming website, then, AppDupe's Netflix clone script is a strong contender. Equipped with powerful admin dashboard, web app integration options, and iOS & Android native apps, Netflix clone script from AppDupe is among the finest solutions to get started in the video streaming industry.
Besides Netflix clone script, the clone development company also provides paid plugins such as Bitcoin wallet integration at $1000, Adsense integration at $999, custom video player at $749, promotion codes at $499, language translation at $499, and custom payment integration at $499. Competitively priced at $2000, this Netflix clone script is among the best video-on-demand clone scripts in the market.
Here's the link- https://www.appdupe.com/netflix-clone-script/
Ncrypted
– Netflix clone script
This complete whitely labeled Netflix & Hulu clone builder from Ncrypted ensures high customizability, amazing user interface, and seamless streaming experience. The amazing features which are included in this Hulu clone script are social media capabilities, real-time notifications, customized admin dashboard, video management, category management, report and strategic management.
The clone development company claims that their solution for Hulu clone is highly scalable and can easily be customized for specific requirements. The powerful and user-friendly admin dashboard lets the owner manage every module in an easy manner.
While researching, we noticed that Ncrypted has not mentioned the Netflix clone price on the website. So, get in touch with the company for the product price.
Here's the link- https://www.ncrypted.net/hulu-clone
Maxflix by Appoets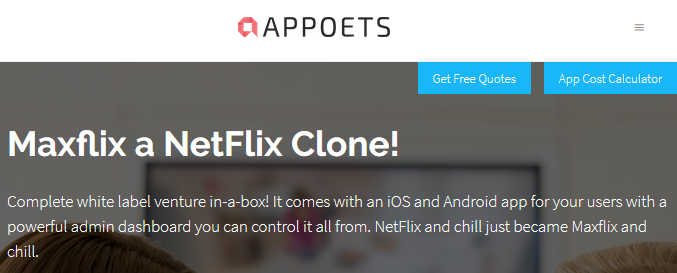 Appoets is a clone app development company which specializes in building a vast range of amazing clone scripts including Uber clones, TaskRabbit clones, and Whatsapp clone scripts. Loaded with state -of-the-art features Appoets' Maxflix clone app is surely going to lure entrepreneurs looking to build their own Netflix like platform.
The company has priced the Netflix clone app competitively at $1499 which includes basic features like social media integration, payment gateway, customized dashboard, video management, category management, content management, rating-review management tools as well as advanced features such as web and mobile apps integration, cancellation features, advanced profile management tool.
Here's the link – https://www.appoets.com/products/netflix-clone-script
ClonesCloud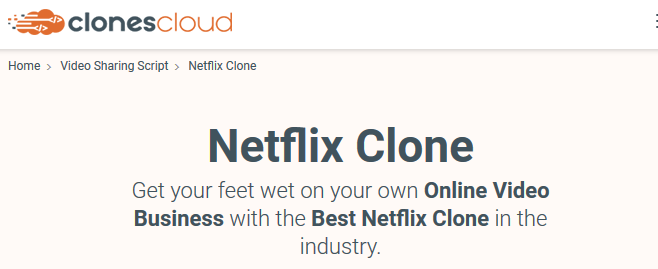 The powerful Netflix clone script from ClonesCloud has an amazing set of standard features like multiple social logins, user-friendly dashboard, inbuilt video player, advanced search options, feature rich admin panel, CSV and XLS export, and admin managed blogs.
The clone development company asserts that their clone scripts are developed in open source, are scalable and robust to implement customizations according to specific requirements.
With high customization, multi-domain license, and 3 months of technical support, ClonesCloud has developed one of the best feature-loaded Netflix clone scripts in the market.
Here's the link- https://www.clonescloud.com/netflix-clone-script
StreamView by Streamhash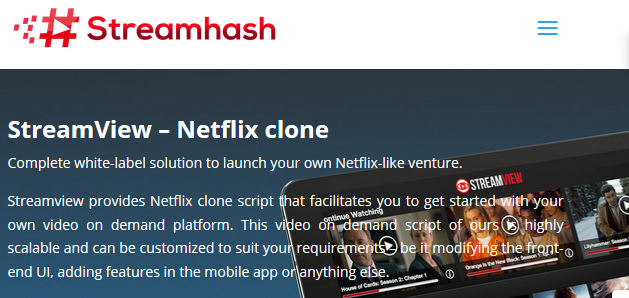 It looks like the there is no dearth of Netflix clone script builders in India and Streamhash is one of them. StreamView from Streamhash is another amazing Netflix clone script which lets you get started in the video streaming business in no time.
Besides standard features such as profile management, social login, and push notification system, StreamView also boasts advanced features like pay-per-view, SEO optimization, paid subscription tools, iOS & Android mobile apps, and powerful Nginx server.
The company's pricing plans include:
Lite – This includes web script, admin panel, analytics, responsive design etc
Deluxe – At $199, this plan includes 100% source code, SEO optimization, PayPal gateway integration, social login, responsive frontend, and Analytics.
Ultimate – Priced at $699, this package includes web script, iOS, Android apps, SEO optimization, subscription system, Analytics, PayPal gateway integration, etc.
Here's the link – http://streamhash.com/netflix-clone-script/
Netflix Clone Custom Development
A lot of app development companies don't have Netflix and Hulu clones ready with them but they claim to have the expertise to develop the same at a competitive price. The Development companies like Arigya, Spaceo Technologies, and App Tunix claim to have the development talent and knowhow to develop highly advanced and feature-loaded Netflix and Hulu clone script apps.
This also brings the flexibility of adding your own unique changes to your Netflix clone and making it stand apart from others.
Above are the top turnkey Hulu and Netflix clone scripts to build your own video streaming venture.
Get into Video Streaming Business!
With powerful readymade clone scripts, starting a video-on-demand streaming business has never been so much effortless. The development companies building Netflix clone scripts are making it easier for entrepreneurs to get started in the domain.
Besides innovative turnkey solution for video streaming, great UI and solid business execution, other important factors such as digital marketing, brand building, and continuous innovation are equally essential to make a mark in this content industry.
Do you know any other Hulu and Netflix clone scripts that deserve to be in our list of best Netflix clone scripts? If yes, then, mention the brand name in the comment section and we will consider it for inclusion!