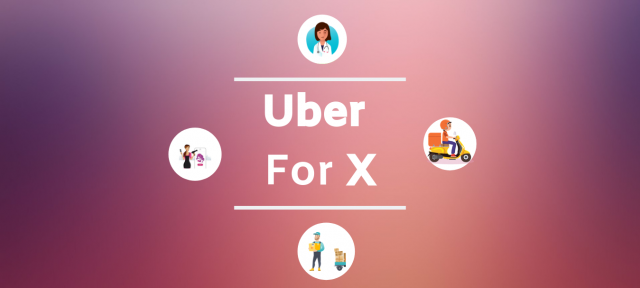 There are zillions of app-based startups that provide various services to the people. More than 90% of these startups follow the Uber model. Uber is a technology firm which works in the taxi industry. It first introduced the method of finding, booking, and getting a service via the mobile app. Since then it became a standard business model and startups which follow it are Uber for X startups. Where 'X' denotes the type of service.
Uber for X startups has emerged in areas like healthcare, transportation, food, beauty & style, education, entertainment, housework, etc. The startups have drastically altered these areas in a positive way and the testimony to it is the employment opportunities created in these areas. Needless to say that 70% of the workers in these startups are happy. In 2018 the Uber for X startups generated $85 billion in revenue and in 2025 it is estimated to get $335 billion. Nearly 48% users of these startups are between 18 to 35. These stats tell us that the Uber for X growth will be uphill in the future.
So there is every reason for entrepreneurs and business enthusiasts to try the Uber for X business service. Since it is not limited to a single sector, you can launch Uber for X startup in any area you think you can bring a change. That said, it is also important to use the best solution for your Uber for X startup. A quality app solution is proportional to the type of solution provider. Also, the Uber for X solution should be flexible to accommodate any type of service.
A good solution provider must develop an app by taking into all the factors like cost, script quality, market trend, tech advancements, etc. I have listed the top 10 Uber for X solution providers by analyzing many solutions and its users.
When you are looking for Uber for X solution, I bet you would definitely not avoid V3 cube. Their Uber for X solution is optimized in such a way that it can be used for 50+ business service like healthcare, tutoring, car booking, food delivery, handyman service, just to name a few. Theirs is a white label solution with NDA protection.
Feature add-ons like – Localization, currency, and language are done completely free of cost.

They offer two customized unique packages based on the budget and users can select one based on their needs. So, if you need a quality solution at a budget, then go for V3 cube.
If there is a best Uber for X solution for food delivery, taxi booking, and marketplace business service, then it is from Elluminati inc. They allow the clients to select from the color of the app to the country of deployment before the app development. This is the level of customization they do in the Uber for X solution.
Their USP is the UI/UX design which is unparalleled. The solution can be rated 9 on a scale of 10 for the value of money.
Apporio follows the design, development, integration, and testing process for the Uber for X development. Because of this, there will be no lapses in app development. You will get a complete and a perfect solution free from bugs and major issues.
They offer quick app installation and approval, responsive web panel, and a lifetime license for the Uber for X script.
Zoplay Uber for X is used by many influential companies globally. They offer 13 uniques and never before seen features in their solution. You just have to purchase their solution, configure it and start the business.
Before buying, apply for a live demo of their Uber for X solution. If you are satisfied, the solution will be customized in less than a week to suit your business service.
Starting from delivery service to tutoring service, they readily have fully customized Uber for X solution for various services. They have an illustrious history of making perfect app clone scripts for various on demand business models. So, the reliability and performance of their Uber for X solution is unquestionable.
The final product of SpotnRides Uber for X solution is made after a lot of iterations which consists of repeated revisions and tweaks in order to set a benchmark for the Uber for X app. Latest tech advancements are incorporated in this solution after careful analysis of the market need.
Excellent technical assistance is offered by them from start to finish. So, this solution can be even be used by entrepreneurs and businessmen from a non-technical background.
Some eye-catching features in SpotnRides Uber for X solution:
Native mobile apps: Both iOS and Android apps are made natively with catchy designs.
Live geo-tracking: Customers can track the delivery person and service provider accurately using GPS navigation.
Talk/chat with the service provider: User can talk anytime or chat with the service provider.
Dectar Uber for X solution has a powerful admin app. Their solution has features suited to urban areas. So, if you want to start a Uber for X service in a city, then dectar is the right place for you.
Dectar also offers free support for a long time and free rebranding. As usual, it brings all the basic features of Uber for X app.
They provide Uber for X app script with full source code for Android, iOS, and web. Also, they assure PCI compliance so there is no issue for accepting payments for any services.
Appscrip recently introduced the new version of Uber for X with some unique and latest features. Go for it if you need the latest Uber for X solution.
Zuket Uber for X is available at a reasonable price, adaptable infrastructure to accommodate business growth, and most importantly custom built.
Zuket has dedicated Uber for X solution for delivery on demand, healthcare, and home services. Zuket has integrated payment, web analytics, and many more.
If you don't have to worry about the technicalities of the Uber for X solution, then try this solution. The solution is also economical and once purchased you can start the business in less than 3 days.
They follow a standard architecture for app development and this makes the solution devoid of any problems. The solution works seamlessly in all devices of any platforms.
They have the amazing feature of this Uber for X allows the owner to control and monitor everything from the admin web panel.
The front-end and back-end of their solution work freely without any issues for a long time. Their Uber for X app is developed in a way to support more than 50+ services. Their unique craftsmanship in developing the Uber for X app will make both the customer and service provider app to national and international level.
If you want to expand your service widely, then this Uber for X solution is the best. The reason for this is the scalability and adaptability.
Conclusion
Each Uber for X solution providers are unique in their own way. Before selecting the right solution, first, make a checklist of all your requirements for Uber for X solution. The requirements should take into account the region of operation, budget, time of deployment, target users, etc.
Also, keep in mind that Uber for X startups is a growing field with continuous improvements. So, the app solution you select should have the provision to adapt to the changing environment.
I assure you that the list of above solution providers who have rich experience in app development and you need not worry about the reliability of their uber for X solutions.