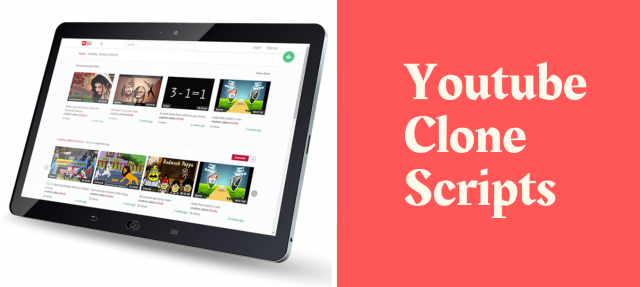 Do you want to become an internet entrepreneur? Then, the best thing you can do immediately is to start an online video streaming service. Video streaming services like Youtube, Vimeo, Netflix, and Prime have way more users than any other media format. Around 100 million users are watching online video at given time. By the end of this year, four-fifths of the online usage will be for online videos.
Video streaming services like Youtube and Vimeo are free for users and also allow them to upload videos like game shows, music videos, movies, educational videos, and many more. The online video streaming platform is estimated to generate a revenue of $125 billion by 2025. So, it would be apt for you to start a free video streaming service like these. 
A normal question about monetization will definitely arise to you. It is possible to place ads and earn very well through it.
Now the next question is What next ?. Next, you have to develop a quality PHP video streaming software. To lessen the burden you can use readymade Youtube clone script. This script is compatible with video formats like AVI, MPEG, MPG, MPE, DAT (VCD), VOB (DVD), WMV, ASF, and ASX.
The Youtube clone script is available with many software makers and it is important to select the best of the best which can stream high resolution videos. More than 40% of them who watch online video services complain of poor video quality.
We have handpicked some top 10 PHP video streaming scripts based on factors like features, customization ability, scalability, response, price, deployment time, and some more.
The name itself is enough to certify their Youtube clone script. This firm is dedicated to PHP development and the quality of their script is on par with the original software. Theirs is SEO friendly and made with Google standards.
They differ from others and stand unique in providing one-year technical support with free 6 months update and 24/7 support. Once purchased, the source code will be completely given to you and the site will be live in 24 hours.
They are also offering a payment gateway system in case if you want to charge for the service apart from ads. All other fundamental features of Youtube will be there in the PHP script mall's youtube clone. Go for it if you need a script with quality PHP code.
Their Youtube clone script is made with versatile technology which offers website software and mobile app with custom front end UI, advanced analytics, and powerful dashboard.
This Youtube clone script is not just another basic ready to go source code, but customized to handle unlimited users and support high quality videos. Apart from the default revenue model, they offer other kinds of monetizations like banner ads, subscription models, and membership plans.
The advantage of working with them is that they have already made a good base for you in the form of customized Youtube clone script. Little you have to do to alter the app and straightaway you can start this business.
Appdupe Youtube clone script is highly customizable, easy to install for users, and more friendly to maintain. This solution has separate ad management, video resolution converter, multilingual, and live streaming option.
Even after the product deployment, they will help in the enhancement of the product with mandatory technical assistance.
If you want a solution with a complete package of features then, this solution is the one you are searching for.
Agriya has a fully developed video streaming software called as Rayzz. This clone script website allows users to share, view and express their video, photos thereby helping a wide base of users to build an effective video sharing community.
This script is available at an affordable rate and if your requirement is to get one immediately then, go for it.
This PHP video streaming app solution is not exactly similar to Youtube but a close replica of Vimeo and Dailymotion. So, this solution is a notch higher than the Youtube clone. This clone has features like multi-lingual, highly secure, unlimited categories, sub-categories, Google interface, banner advertisement, video grabber, users, and payment details, etc.
The admin dashboard is loaded with features like add media, import video via URL, import videos from streaming sites and it has different management system like Report Management, Media Management, Manage Users, Comments Management, Page Management, Blog Management, Manage Configuration,
Go for this PHP video streaming script if you need an advanced and feature-loaded admin dashboard.
Streamhash has a video streaming script called Streamtube with all standard features similar to Youtube. This is a powerful feature-rich script which can handle large volumes of user data.
What differentiates Streamtube from others is that they have embedded a business model, monetization channels, and also made to open source. Their script is also available with an outstanding mobile app model.
The solution is readily available and you can try a live video demo for both website and mobile app version.
This Youtube clone has an adaptive video streaming and with it the users can watch and upload any videos without any interruptions. This is the only clone with a local storage facility which allows the user to download the videos and watch anytime without internet.
They offer some best flexibilities and seamless integration of streaming live videos. Their solution is responsive, easy to install, scalable, and customizable.
Their video streaming clone is called Vuetube. Vuetube is designed in such a way that enables you to set the goal for your streaming service. They offer two script packages, basic and standard.
The basic package has all the fundamental feature similar to youtube and the standard package is customized to hold a lot of unique features.
The user features and admin features in the standard package is outstanding and will be helpful if your streaming service is made accessible from multiple regions.
The view shark Youtube clone is developed in such a way that it can be easily accessed and managed from any devices and platforms. The script is made to fit all screen size.
Users can live stream videos, upload pictures and share stories apart from videos, This script is highly flexible to run as VOD service, an e-learning portal, and corporate video solutions.
Inbuilt messaging system, music player, and rating for videos in readily present in the script.
If you are looking for a sophisticated video streaming service solution then, simply go for it.
This Youtube Clone is made from HTML5. They have good admin management and 100% customizable.
They provide the complete source code to the clients. Presently they released the version 3 of Vshare and it has HTML5 video player, One-click verification for new users, and a new site statistics with data analytics tools.
You can ask for a live demo of this solution and experience all the features.
Wrapping up
Now, you have to analyze each of the above solutions and select the one that suits your needs. All the above solution providers are unique in their own way and each of the PHP and HTML5 video scripts differ from one another.
Before deciding on the solution you should first make a checklist of all the features that you need in the video streaming service. Now choose the right solution from the list.
I hope this blog helps you to take your first step to start your own video streaming service.